Hanover men still control the HCAC
HIGH SCHOOL BOYS BASKETBALL:
Madison falls to Greensburg 70-59. Luke Miller 19 for the Cubs
Greensburg at Madison Boxscore
Hauser defeats Shawe 72-39
Franklin Co. over Switzerland Co. 51-45
Trimble Co. over Owen Co. 73-59. Grant Weaver 18 for the Raiders
Christian Academy of Madison defeats Medora 57-48 to capture a share of the first Southern Road Conference Title.
HIGH SCHOOL GIRLS BASKETBALL:
Carroll Co. falls to Grant Co. 68-50
IHSAA GIRLS SWIMMING STATE MEET:
Madison's Val Gonzalez with a 14th place finish in the state finals in the 50 Freestyle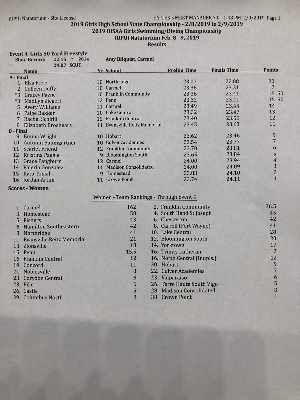 HANOVER COLLEGE:
Both men's and women's basketball teams pick up wins over Manchester on Senior Day. Powered by a squad-leading Senior Day 20 point performance from senior Cam Fails, the Hanover men's basketball team held off a second-half Manchester push for a 66-62 victory. Panthers lead in the HCAC remains one over Rose and Transy with two games left. Senior Claire Cromer and Junior Alexis Nall each tallied 14 to pace the women's basketball team to a 84-45 win over Manchester. Hanover can finish no worse than 3rd in the regular season with two games left.