The winners will be named on Friday, January 17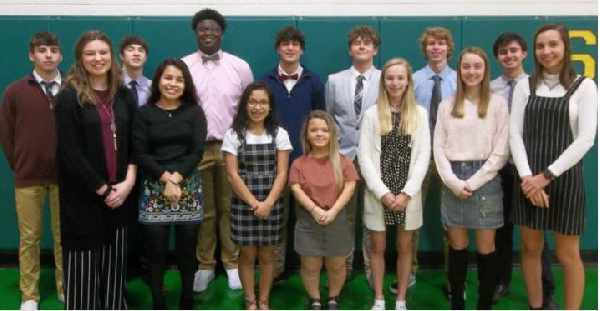 Photo Courtesy of Shawe High School
Front row from left, Haley Thayer (SR), Marili Perez (SOPH), Reyna Ortiz (SR), Caroline Grote (SR), Lauren Grote (FRESH), Phoebe Grote (JR), and Grace McAllister (SR).
Back Row from left, Grayson May (JR), Chandler Cole (SR), Ethan Stuart (SR), Henry Grote (SOPH), TJ Stitzel (SR), Braeden Collins (FRESh), and Nate Pawlak (SR)
(Madison, Ind.) - Fourteen students have been selected by their peers to represent their perspective classes for this year's Shawe Memorial High School Homecoming.
The school announced its homecoming court of eight senior boys and girls who have been selected by their peers to represent the class of 2020.
The court also includes on boy and girl candidate from each of the remaining classes.
On Friday, January 17 during the basketball game against Trinity Lutheran, the winners will be declared King and Queen as well as Prince and Princess.
The students chose the theme for this year's homecoming to be "The Happiest Homecoming on Earth." Throughout the week the school will be having Disney themed dress days, extra spirit activities, as well as a dance.