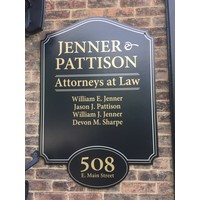 Former Madison City Attorny
Madison attorney Robert L. Barlow, II announced that he is joining the Madison law firm of Jenner & Pattison and will serve in the capacity of "Of Counsel".
Barlow has practiced in Jefferson County and surrounding areas for over 39 years. He was a former Madison City Attorney and a partner in the firm of Cooper, Cox, Jacobs, Reed & Barlow. He will now serve as "of counsel" with the Jenner & Pattison Law Office. Rob Barlow can still be contacted at 812-273-4440 and his office will be located at 508 East Main Street, Madison, Indiana.
The American Bar Association has defined the designation "of counsel" carries with it the inference that the lawyer has a close, regular ongoing relationship with the firm.
Barlow will continue practicing in the areas of personal injury, social security, wills, trusts, probate, business development, and mediation.
Joe Jenner and Jason Pattison, of Jenner & Pattison, stated "that we are very pleased to welcome Rob Barlow to our firm and look forward to working with him in the future."