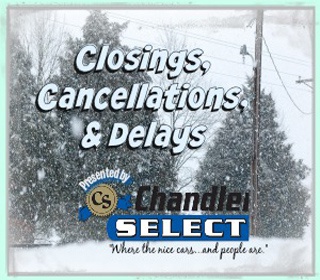 Winter Storm and advisory
SPORTING EVENTS:
Southwestern wrestling tournament has been cancelled and will not be rescheduled
The ORVC swim meet tomorrow has been cancelled. Rescheduled for Tuesday, January 15th at 6:00.
Southwestern will not be playing in the MS Salem basketball tournament
All Southwestern athletic practices are canceled
The elementary basketball leagues for boys and girls are canceled
All "A" 8th Region Boys Championship (Gallatin Co vs Walton-Verona) rescheduled for Tuesday, January 15th 7p at Trimble Co.
Shawe girls basketball at South Central has been cancelled
Snowbird Classic Junior High girls basketball tournament at Switzerland County has been Cancelled
Shawe Junior high boys basketball @ St. Bartholomew has been cancelled
HHC Wrestling has been cancelled
HHC Swim meet has been cancelled and rescheduled for Tuesday, January 15th
Madison JH Wrestling @ Greensburg has been cancelled
Madison girls basketball against Corydon cancelled and rescheduled for Thursday, January 17th
Madison at Salem JH Boys and Girls Tournaments have been cancelled
Hanover College men & women swimming has cancelled its away meet at Urbana,
Switzerland Co. JV/Varsity Boys Basketball game against South Ripley has been cancelled and rescheduled for Wednesday, January 16th
Switzerland Co. JV/Varsity Girls Basketball game against New Washington has been cancelled and will not be rescheduled
Switzerland Co. archery tournament has been canceled
Christian Academy of Madison boys basketball at Horizon Christian cancelled