Photo available
On Tuesday around 10 PM a Carroll County Deputy along with a Carrollton PD officer responded to a robbery in progress complaint on Slumber Lane.
They set up a perimeter along with responding Kentucky State Troopers and canvassed the area in an attempt to locate the robber who had brandished a small silver firearm during the robbery.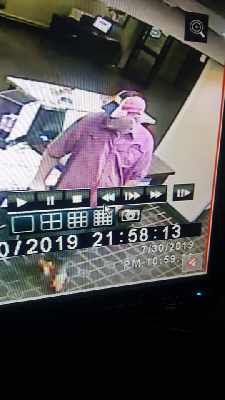 The suspect is described as a white male approximately 6-foot tall wearing a red shirt and ball cap. He left in a direction towards McDonalds. We are posting a video surveillance still picture of the suspect. The investigation continues. If you know the identity of this individual please call the sheriff's office at 502-732-7010. All tips will remain anonymous.