Designed to blend the conveniences of a hotel with the flexibility of a short-term rental, new "invisible service" property is the first in Indiana.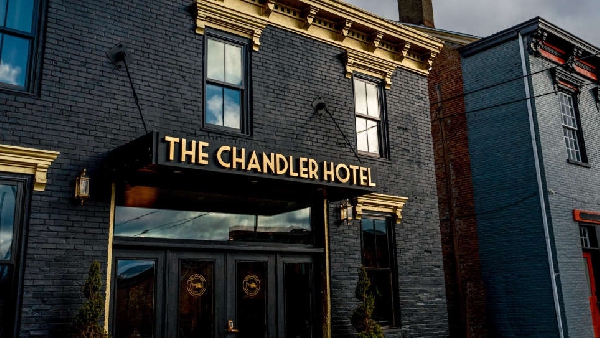 MADISON, Indiana – March 15, 2023 – Indiana's first-ever "invisible service" hotel is opening Monday, March 20, 2023 in the heart of Downtown Madison, named The Most Charming Town in Indiana by Touropia in 2022. The Chandler Hotel has a rich history while boasting sophistication and comfort for the modern traveler. With a focus on attracting diverse travelers, this new, first-of-its kind boutique hotel gives a nod to the past while capturing a rich contemporary design featuring a rooftop terrace, fitness room, and spacious gathering areas. Each room is individually designed to offer a unique experience and pay homage to the charm and history of Madison.
Originally operating as a livery stable, later as a bottling works and storage property for newsprint for the local newspaper, the building was purchased in 2021 by Matt and Dan Chandler, unlocking a new destiny for the historic building.
"Our hotel is a love letter to the town of Madison and all of the future guests who will experience a unique and memorable stay" said Matt Chandler, Owner, The Chandler Hotel. "So much intention and thought went into each detail of the property, paying tribute to this incredible destination, while elevating the quality of lodging for savvy travelers with a passion for perfection."
Each room in the five-room property features a theme connected to the local community. Rooms like "The Lanier," and "Sunset on Broadway" are brimming with special touches that highlight a piece of Madison's history. Local products including coffee from the Red Roaster and soap from Fountain Alley BodyCare, are added highlights that support Madison businesses while providing guests with high-quality amenities.
"Matt and Dan are taking tourism in Madison to the next level" said Bob Courtney, Mayor of Madison. "Our picturesque community, touring a state park, national historic landmarks, and world-class events, is the perfect place for a property of this caliber to thrive. We are so grateful for this investment in our community."
The Chandler Hotel's website, www.thechandlerhotel.com, is open for online bookings, beginning Saturday, March 18, 2023. Guests will feel confident and relaxed with self-check in. The Chandler Hotel is equipped with modern and secure access, allowing guests to skip the front desk and head directly to their rooms. Staff and necessary services are never more than a screen touch away.