In Ripley Co
At approximately 10:45 am, Monday, 20. May, 2019, a commercial transport of Type-F Fly Ash travelling westbound near 5500 W US-50, Holton, departed the prepared surface of the roadway and flipped into a tributary of Bear Branch waterway on the north side of US-50, closing the westbound lane for the remainder of the day.
Emergency Crews spent over 12 hours cleaning up the destroyed vehicle, contents, diesel fuel, and oil.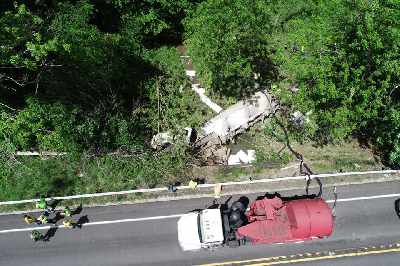 Thanks to the quick work of Holton Firefighters, the hazardous materials (objectionable substance) release was confined and remediated.
After the materials were offloaded from the wreckage, the remains of the truck were extracted from the embankment by heavy lift cranes, which closed both directions of the Highway for about 4 hours, reopening to traffic at about 11pm that evening.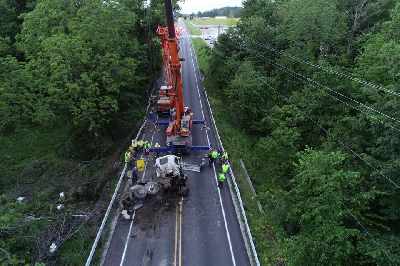 Ripley County Emergency Management Agency recognizes the hard work of Indiana Spill Response, Holton Volunteer Fire Department, Indiana Department of Environmental Management, Ripley County Sheriff's Department, IN DNR District 9 Indiana Conservation Officers Miller and Ostendorf, Indiana Department of Transportation Watch Desk, the INDHS Watch Desk, and the transportation company.
Of course, Ripley County Communications (911 Dispatch) kept all of these agencies informed of the actions of each other during the dynamic event.
Holton Volunteer Fire Department especially deserves recognition since they stayed at the mishap site to direct traffic and facilitate the flow since one lane was closed.
The driver was able to walk away from the accident but went to the hospital to be checked out.
Ripley County Sheriff's Office is investigating the mishap.