Truck driver hurt
Chief Deputy David Turner with the Jennings County Sheriff's Department says that just before 8:30 a.m. Friday, deputies received a report of the collision at the railroad crossing on County Road 750 W, just north of US 50 W. Upon deputies' arrival, they reported seeing a stopped CSX train and a Mack truck with a large dumpster on the back off of the roadway. Authorities say the truck appeared to be traveling northbound on 750 W when it entered into the path of the oncoming train.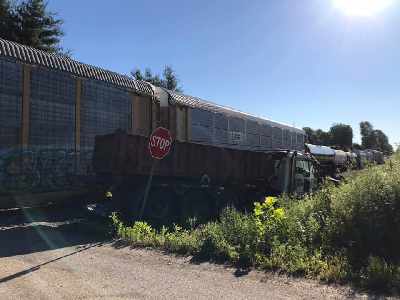 As a result of the crash, investigators say the dump truck rotated clockwise and came to a rest on the south side of the tracks in a ditch. The train was able to stop about half mile down the tracks near County Road 700 W. CSX officials told the Sheriff's Department that there were at least 50 cars on the train. The engineer of the train told investigators that there was no way that he would have been able to avoid the crash because the truck entered the crossing as the train was going through it.
The driver of the truck, 65-year-old James Fleetwood of Medora, was transported to Schneck Medical Center ambulance. His condition has not been released. No one on the train was hurt.