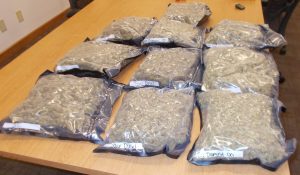 Photo courtesy of Columbus Police Dept.
Christmas in June for Columbus Police
Since there are only 187 days until Christmas, we are happy to share a story on the first day of Summer about unexpected gifts.
On Wednesday, another Columbus resident received a surprise package with his address on it. The strange thing is, it wasn't his birthday and he wasn't expecting any orders. He thought aloud to himself, even though the Holiday Season doesn't begin for another six months, I have been a good boy, maybe Santa decided to send me a gift a little early.
With the excitement of an eight year old child, the man opened the "gift", looked inside the package, and to his disappointment, he saw ten pounds of marijuana with a street value of $30,000. Definitely not what he expected. Just like the time he got socks and underwear for his birthday from his Aunt Edna instead of that video game he was wanting for months.
The discouraged man understood that in the State of Indiana, possession of ten pounds of Ganja will get you arrested, so, in the spirit of giving, he decided to contact CPD. We photographed and accepted the man's "gift" and secured it our property room where it patiently waits for it's real owner to claim it. In fact, it's right next to the 350 packs of THC Juice we confiscated last month after it too was sent to the wrong address. Disappointingly, nobody has come to claim it yet.
What is clear to us is that someone appears to be "One Toke Over the Line" when they are mailing out their packages of weed.
We don't want to keep something that isn't ours so if we have your ten pounds of pot and you want to claim it, just swing by and and visit us at CPD. You can speak to the friendly front desk officer who is here until 5:00 p.m. Monday-Friday. He won't be hard to spot, as he won't stop singing his new rendition of the 12 Days of Christmas: 10 pounds of pot, 9 roach clips, 8 air fresheners, 7 rolling papers, 6 minutes napping, 5 GLASS BONGS...............
Have a great Summer everyone.