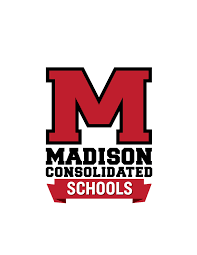 Joins Armstrong and McVey
"We are absolutely thrilled with this addition to our school security team," shared Dr. Jeff Studebaker. "SRO Wallace brings an exceptional amount of professional experience and long-term community relationships to our district. His hiring expands our ever-growing team of law enforcement professionals charged with keeping our students, staff, campuses, and visitors safe on a daily basis."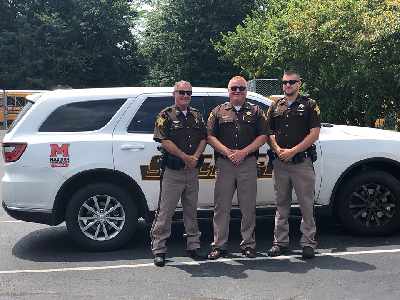 Madison SRO Team pictured at left: Tim Armstrong, John Wallace, and Jacob McVey, District Safety Director.
Wallace brings a vast amount of law enforcement experience to the security team. He most recently served two terms as the Jefferson County Sheriff from 2011 to 2018. At the conclusion of his second term in office, Wallace stayed on with the new administration as Chief Deputy until his recent resignation.
As Jefferson County Sheriff Wallace:
* Implemented the school resource officer program
* Implemented the K-9 program, with three K-9's currently active
* Trained officers in narcotics investigations
* Implemented mental health, narcotics, GED and faith-based programs in the county jail
* Under his tenure, Jefferson County led the State of Indiana (per capita) in drug-related arrests.
Wallace began his career with the City of Madison Police in 1986 as a Patrol Officer where he was the first crime scene investigator and bike patrol officer. He went on to serve as a Detective/Captain from 1999 to 2007 where he actively worked with federal and state agencies to make a significant impact on illegal drugs in our community and advocated for child victims of sexual crimes. In 2007, Wallace was appointed as Chief of Police where he served until 2010. Notable achievements while Chief included organization and re-implementation of the K-9 program, implementation of Madison's first Emergency Response Team, and re-implementation of community policing through expanded bike patrols and neighborhood block watch programs.
"I am very excited to join SRO's McVey and Armstrong as part of the Madison security team," shares Wallace. "I have worked closely with the schools in my previous positions and see the great work they do each day with students and for our community. I look forward to building relationships with students and families as we begin school."
Wallace is a graduate of Shawe Memorial High School, a member of the Prince of Peace Catholic Church, Elks Lodge, Knights of Columbus, and Madison Moose Lodge. He serves as the President of the Jefferson County Justice Treatment & Prevention Program. He is an Advisory Board Member for Community Corrections and the Department of Corrections, serves as a board member of the Healthy Communities Narcotic Intervention and a former board member of the United Way and American Red Cross.