Provided information on many different projects throughout the Commonwealth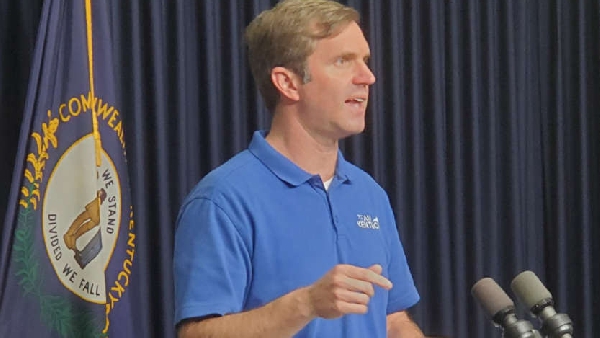 FRANKFORT, Ky. (Jan. 12, 2023) – Thursday, Gov. Andy Beshear updated Kentuckians on economic development; increased child care options for military families; public safety; the 2022 Governor's Awards in the Arts recipients; inclement weather; rebuilding and recovery efforts in Eastern Kentucky; his work to protect youth and staff at the Department of Juvenile Justice (DJJ); the open enrollment deadline for health care coverage; and public health. He also named Fahe Housing as this week's Team Kentucky All-Star.
Economic Development Update
Gov. Beshear highlighted two economic development projects that are expected to create nearly 160 jobs and represent $54.8 million in new investment. The Governor also announced eight Kentucky companies receiving grants as part of the Small Business Innovation Research (SBIR) and Small Business Technology Transfer (STTR) matching funds program.
"We continue to see companies moving forward with projects throughout the commonwealth, building on the best two-year period for economic growth in our state's history," Gov. Beshear said.
The Governor congratulated Neogen Corp., a manufacturer of animal and food safety products, on its new facility in Montgomery County, a $9.8 million investment creating 79 full-time jobs and furthering the Governor's initiative to grow Kentucky's agritech sector.
Today, Gov. Beshear joined local officials and representatives from PACCAR Parts, a distributor of aftermarket parts for heavy- and medium-duty trucks, trailers, buses and engines, for the ribbon cutting of the company's $45 million, state-of-the-art parts distribution center in Louisville, which is creating 80 full-time jobs in the region.
Gov. Beshear recently announced eight innovative Kentucky companies receiving nearly $900,000 in state matching grants as part of the SBIR/STTR matching funds program. The program provides capital for promising early-stage tech companies based in Kentucky or companies committed to relocating to the state. To date, Kentucky SBIR/STTR-awarded companies have created more than 725 quality jobs, with 70 percent of those jobs having an annual salary over $50,000. Kentucky SBIR match recipients have generated more than $44 million in sales and licensing revenue.
Increased Child Care Options for Military Families
The Governor announced today that Kentucky has been identified as one of the first states to receive federal approval from the Department of Defense to help connect military families with quality child care through the Military Child Care in Your Neighborhood – PLUS program.
The program:
Provides child care fee assistance to eligible military families when on-base or installation care is unavailable;

Expands child care options for military parents by providing more quality child care providers and reduces the cost of care; and

Benefits child care providers by offering them the opportunity to increase their income and grow their businesses by including military families.
There are currently 145 licensed child care providers participating. Families taking part in the Military Child Care in Your Neighborhood-PLUS program will receive a $1,500 monthly stipend to help with child care expenses. The program is expected to encourage retention in the armed forces.
Child care providers who are not accredited can apply for fee assistance through the Division of Child Care or participate in the Quality Improvement program. For more information, visit chfs.ky.gov/agencies/dcbs/dcc or call (502) 564-2524.
"I am proud to be governor during a time when we are making child care more accessible to our hard-working military families," Gov. Beshear said. "These are the heroes who put their lives on the line every day. We are always grateful to them and the sacrifices that their families make. And we want to support them in any way we can."
Governor's Awards in the Arts
On Tuesday, Gov. Beshear recognized nine recipients of the commonwealth's most prestigious art awards, the Governor's Awards in the Arts, in recognition of their dedication to sharing Kentucky's rich art heritage.
Open Enrollment Deadline is Jan. 15
The Governor said that Kentuckians have until Jan. 15 to shop and enroll for health and dental coverage starting on Feb. 1 on the state-based marketplace, kynect. To see plan options, visit kynect.ky.gov or call 1-855-459-6328. The next open enrollment period will begin in November, with coverage starting Jan. 1, 2024.
Public Safety
Gov. Beshear thanked the Kentucky State Police (KSP) and the Warren County Drug Task Force for stopping a vehicle on I-65 south of Bowling Green. Officers found 80 pounds of methamphetamine, carrying a street value of more than $500,000. This represents the largest seizure of meth in Warren County's history. Two men were arrested on charges of first-degree trafficking in a controlled substance.
The Governor also applauded the KSP Post 12 troopers in Franklin County for resolving an incident earlier this month. On Jan. 1, KSP Post 12 troopers conducted a routine traffic stop for a speeding violation. Through the investigation, approximately two pounds of methamphetamine was located inside the vehicle. The troopers arrested the man involved and confiscated the illegal drugs. The Governor applauded KSP for their hard work and dedication to public safety.
"Both of these operations are incredibly significant, but it's important to remember that operations like these occur in our communities every single day," said Gov. Beshear. "So thank you to our law enforcement for taking dangerous drugs off the streets and making our communities safer."
Department of Juvenile Justice Update
Today, Gov. Beshear announced that all male juveniles, 14 or older, who have been charged with a violent or serious offense (Capital, Class A, B or C felony) are now housed at one of three high-security detention centers in Adair, Fayette and Warren counties.
Male juveniles younger than 14 or who have been charged with a lower-level offense (Class D felony or lesser offense) are being housed at facilities in Boyd, Breathitt, Jefferson and McCracken counties.
Female juveniles will continue to be housed at a facility in Campbell County, as the Governor announced in December.
"I am proud to say that our juveniles are now separated by crime – and females are housed separately – for the first time in the commonwealth's history," Gov. Beshear said. "Thank you to all the staff at the Department of Juvenile Justice for caring about our youth, for being willing to make quick changes for their benefit."
The Governor further explained that as new male juveniles are ordered to detention these facilities will at times house both serious offenses and low-level offenses until the initial detention hearing is held.
The Governor said his administration is working to implement a transportation plan to help reduce any transportation burden on law enforcement than currently required by statute. Once the transportation branch is resourced and implemented, the goal is that any time a male juvenile is ordered to detention, law enforcement will transport them to the nearest detention center, as they have done in the past, where they will remain until their initial detention hearing. This hearing is usually within the first 48 hours excluding weekends and holidays.
Law enforcement would then return to transport the youth to court and return them to detention if ordered by the judge. At that time, juvenile justice would assign them to the facility based on their committed crime. The department plans to hire additional staff and expand training requirements.
The department is in the process of purchasing non-lethal defensive equipment and providing staff with the necessary training to better protect themselves and youth in their care in the event of violent outbursts.
More changes and requested legislative action are forthcoming, which the Governor will announce next week.
Eastern Kentucky Flood Update
Gov. Beshear provided an update on Eastern Kentucky's stabilization and rebuilding efforts.
Currently, 249 families are housed in travel trailers. Kentucky State Parks are now housing 36 people, down from the 360 people sheltered on Sept. 1.
If flood victims need help, they should call FEMA directly or visit a Multi-Agency Resource Center. Visit governor.ky.gov/FloodResources for more information. FEMA is still approving claims and actively working to help flood victims.
Just under 1,100 state- and county-owned bridges have been inspected by the Transportation Cabinet. Approximately 100 were found to need replacement or major repair. To date, 26 of those bridges have been replaced and 14 others have been repaired.
The Team Eastern Kentucky Flood Relief Fund has raised over $13 million from more than 41,000 donors. To contribute, click here.
EKY SAFE Fund Awards
Today, Gov. Beshear announced more awards from the Eastern Kentucky SAFE Fund to communities and public entities impacted by the devastating late July 2022 floods. This week, nearly $4.6 million in funding was approved for communities in Eastern Kentucky, including:
$70, 242 to the City of Jenkins to fund the FEMA match;

$24,707 to the Johnson County Fiscal Court for the FEMA match;

$1.5 million to the Magoffin County Fiscal Court to help ease strained fiscal liquidity; and

$3 million to the Perry County Fiscal Court for strained fiscal liquidity.
Since September 2022, Eastern Kentucky has received $23.8 million in SAFE fund payments.
Weather Update
The Governor encouraged Kentuckians to stay alert as severe weather and thunderstorms continue to impact the commonwealth. Last night there were multiple thunderstorm warnings across Western Kentucky. Severe weather has continued this morning in Central Kentucky as multiple tornado watches and warnings have been issued.
"Watch your local weather and follow social accounts like the National Weather Service or Kentucky Emergency Management for the most up-to-date information. And most importantly, stay safe Kentucky," Gov. Beshear said.
Public Health Update
Gov. Beshear also updated Kentuckians on influenza, RSV and COVID-19. The spread of influenza seems to be declining but remains at elevated levels in Kentucky. Eight children have died from the disease, making this the deadliest flu season for Kentucky children.
RSV activity appears to be declining in the state. People of any age can become infected with RSV, and most recover within one to two weeks. RSV can be serious, however, especially for infants and older adults.
The Governor said the most recent COVID-19 data shows that the virus is increasing nationwide. Several Kentucky counties now have high COVID-19 Community Levels. The CDC estimates that the XBB.1.5 omicron subvariant is now causing an increasing proportion of cases in the United States. This variant is not expected to cause more severe disease than other omicron subvariants. He encouraged those who are eligible to get their COVID-19 vaccine booster.
Team Kentucky All-Stars
Gov. Beshear named Fahe Housing, a group that brings people, resources and organizations together to rebuild homes and communities, as this week's Team Kentucky All-Stars. Following July's historic floods in Eastern Kentucky, Fahe members and Kentucky Habitat for Humanity responded to the immediate shelter needs of affected families. So far, they have moved nearly 200 Kentucky families back home.
In October, Fahe launched the Housing Can't Wait Campaign. This program is a collaborative effort between Fahe, Habitat for Humanity, Kentucky Housing Corporation and the Kentucky State Office of USDA Rural Development. Through this initiative:
60 new homes have been completed or are under construction; and

175 additional homes have received major rehabilitation.