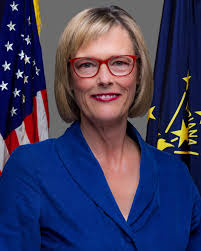 Visits some of Madison's eating establishments
Indiana Lt. Governor Suzanne Crouch will be visiting Madison this afternoon
The Lt. Governor will speak at Madison OCRA Regional Conference sponsored by the Indiana Office of Community and Rural Affairs at the Clifty Inn at 11:45 a.m.
Crouch will be hosted by Visit Madison as she visits Hinkle's Sandwich Shop from 1-2.
She continues her visit as the Indiana Office of Tourism Development hosts a visit to Mad Paddle Brewery for Visit Indiana Week at 2.
Crouch will conclude her visit to Madison as she visits Indiana's Oldest Tavern, Historic Broadway Hotel & Tavern at 3.