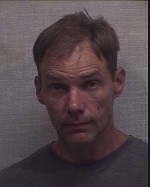 All out effort to capture him
A Jackson County inmate is back behind bars, after an escape Friday night.
Sheriff Rick Meyer announced Saturday night that 39-year-old Daniel A. Coomer was recaptured by the Jackson County Sheriff's Department and the FBI.
Coomer escaped at 8:38 p.m. Friday night after he was taken by jail staff into the outdoor recreation area with other inmates and discovered a door to the outside was unlocked.
At about 11 Friday night, authorities received a report about a home break in and they believe Coomer broke in and stole clothes. Police dogs were brought in including those from the Seymour and Columbus police and the Jennings and Washington county sheriff's departments.
The sheriff says details of the recapture of Coomer will be released soon.
Coomer was originally being held on preliminary charges of Impersonation of a public servant, Possession of Methamphetamine, Possession of paraphernalia, Auto theft, OWI, OWI endangerment and a Floyd County Circuit Court warrant.