Help Wiggles with his stress, adopt him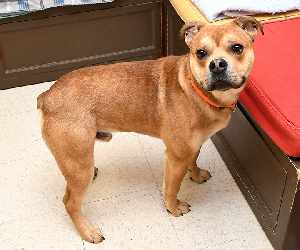 I NEED TO GET OUT OF HERE!
I'm feeling the stress from being cooped in a kennel.
What's worse is that when I get visitors, I'm not acting my silly, wiggly self anymore. So they often don't see the real me.
My name "WIGGLES" suits me well!
I am a 1-year-old pup with lots of playful energy and wiggles.
Do you have a ball? Will you throw it for me? I LOVE to play!!!
I'm quite a character and will make my new family laugh.
I like to explore and get into everything....don't be surprised if you find me standing on your kitchen table.
I'm motivated by treats during training.
I already know sit and will learn other commands quickly to get those treats.
I also walk nicely on a leash.
If I get an afternoon walk here at the shelter, I'll keep my kennel clean overnight.
That means I should be easily house-trained, if I'm not already.
I have to meet other dogs in my household before adoption just to be sure we will get along.
They'll need to be ready for a big puppy.
It will be best to not have cats in my home.
What breed am I? Some see Boxer. Some see Shar Pei. I think I'm uniquely "Wiggles".
I have sponsorships of $30 and $45 to TOTAL $75 OFF my adoption and neuter fees.
The extra $45 is so you can have me neutered quickly by a local vet.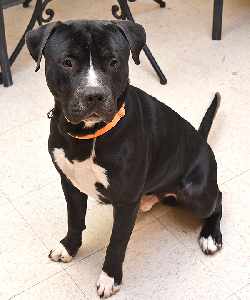 "DIXEN" is my name.
I LOVE to give hugs!!!
So, have your arms out when you meet me.
I'm a sweet, handsome boy and all-around great dog.
I look forward to having a family.
I appear to be fine with other dogs too and will walk nicely past them here at the shelter.
However, it is always best to meet the other dogs in your family to make sure they like me.
I can be a goofy boy who will make you laugh.
Like all dogs, I would benefit from basic obedience training.
I'm a 3- to 5-year-old Pit Bull Terrier mix who weighs 56 lbs.
I'm $30 off my adoption & neuter fees to help me get a home.
Being at the shelter in the winter is no fun.
I want a cozy home and family to love.
~~~~~~~~~~~~~~~~~~~~~~~~~~~~~~~~~~~~~~~~~~~~~~~
As
of
November 1, new pricing is in effect at
the
shelter.
Dogs and Cats are $30 plus prepayment
of
the
ir spay/neuter and rabies vaccination.
Cats who are already spayed/neutered are $45 plus prepayment
of
the
ir rabies vaccination if it is needed.
Dogs who are already spayed/neutered are $55 plus
prepayment
of
the
ir rabies vaccination if it is needed.
The
total cost
of
the
spay/neuter and rabies vaccination varies depending on
the
veterinarian or clinic chosen.
~~~~~~~~~~~~~~~~~~~~~~~~~~~~~~~~~~~~~~~~~~~~~~~~~~~~~~~
Cats
and kittens
are $45
of
f
the
ir adoption and spay/neuter fees c
ourtesy
of
the
shelter and
the
Jefferson County Humane Society
.
Cats who are already neutered or spayed are $45 and not part
of
the
special.
~~~~~~~~~~~~~~~~~~~~~~~~~~~~~~~~~~~~~~~~~~~~~~~~~~~~~~~
The

shelter accepts both STEEL and ALUMINUM cans.

The

funds made with recycling go into our medical fund. Please rinse out

the

steel cans well (we don't want to encourage not-so-adoptable critters to hang out around

the

shelter) and place

the

m in a separate bag from

the

aluminum cans. Drop both types

of

cans (remember, in separate bags) in

the

large labeled bin that is on

the

east side

of

the

shelter - that's to your left when facing

the

shelter's front door.
The

shelter is part

of

the

Kroger rewards program. To participate, register your Kroger card at www.krogercommunityrewards.com and enter NPO number 63224.

Support

the

shelter every time you walk your dog through

the

Walk for a Dog cell phone

app available

at Google Play or

the

Apple App Store.

The

shelter is listed as

the

Madison-Jefferson Animal Shelter.