FOSTER HOMES ARE NEEDED!
My name is "GABRIELLA".
You may call me Gabby since I'm a vocal gal who will ask you for attention.
I'm very affectionate and just love attention.
I'm not fond of being in a cage here at the shelter. So, you may find me in the lobby.
When I'm in my cage, please don't just come by and wiggle your fingers at me. Take me out and love on me.
I'm a bit change adverse. When they switched my cage here, I complained for a whole day.
Now I'm enjoying it since I realized that I was upgraded to a larger space.
So, give me a few days to adjust when you bring me home.
They say I'd do well as an indoor cat, an indoor/outdoor cat, or even a barn cat.
Talk to staff if you have young children, I'm told I can get "spunky" at times.
I'm a 3- to 5-year-old, brown Tabby.
I will be SPAYED on April 22 and will be available to go home with you after my surgery.
I'm up-to-date on my vaccinations, so I'm only $45 to adopt.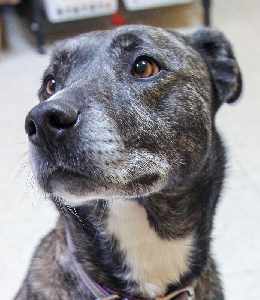 I'm "ANNIE".
I love, Love, LOVE people!
I love people of ages too. So, a home with kids would be great.
Playing fetch is my favorite game. It's a game we can play together.
I appear to be house-trained and keep my space tidy here at the shelter .
I'd prefer a home without other pets.
I do okay with some dogs while I'm on leash, but don't plan to take me to the dog park.
I am SPAYED, up-to-date on my vaccinations, and I'm just $55 total to adopt!
I'm microchipped, but it was an ordeal to get the registration changed over to the shelter.
So, plan to keep the shelter up-to-date on your phone number and address changes rather than registering the microchip.
I'm also heartworm & Lyme negative.
I'm a healthy, 4-year-old Pit Bull Terrier who weighs 53 lbs.
I'm a pretty girl with a brindle coat, a white chest, and white socks on my feet.
~~~~~~~~~~~~~~~~~~~~~~~~~~~~~~~~~~~~~~~~~~~~~~~~~~~~~~~~~~~~~~~~~~
Kitten Season has started at the shelter. We have pregnant moms and soon will have nursing moms with litters that need to be fostered.
To foster cats or dogs please fill out an application at the shelter.
Pets that are fostered are pregnant/nursing, being treated for heartworm, or recovering from other illness/injury and are not currently adoptable. Fostered pets are returned to the shelter when they are ready for adoption (unless you make arrangements with the shelter director to adopt your foster).
We do not use fosters for animals who are currently healthy and adoptable or who are on their stray hold as they need to be at the shelter for the public to meet/adopt/reclaim.
If you are interested, please be aware that any animal already in your home must be up-to-date on vaccinations and spayed or neutered. You must have a home inspection completed by shelter staff, and everyone in your home must agree to shelter guidelines.
The shelter pays for medical care and will supply food.
Applications can be picked up during business hours.
~~~~~~~~~~~~~~~~~~~~~~~~~~~~~~~~~

~~~~~~~~~~~~~~~~

~~~~~~


Cats

and kittens

are $45

of

f

the

ir adoption and spay/neuter fees c

ourtesy

of

the

shelter and

the

Jefferson County Humane Society

.

Cats who are already neutered or spayed are $45 and not part

of

the

special.