Annie and Domino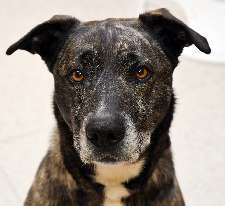 "ANNIE"--Pit Bull Terrier mix - SPAYED
4 years Female 53 lbs.
I love, Love, LOVE people!
I love people of ages too. So, a home with kids would be great.
Playing fetch is my favorite game. It's a game we can play together.
I appear to be house-trained and keep my space tidy here at the shelter .
I'd prefer a home without other pets.
I do okay with some dogs while I'm on leash, but don't plan to take me to the dog park.
I am SPAYED, up-to-date on my vaccinations, and I'm just $55 total to adopt!
I'm microchipped, but it was an ordeal to get the registration changed over to the shelter.
So, plan to keep the shelter up-to-date on your phone number and address changes rather than registering the microchip.
I'm also heartworm & Lyme negative. I'm a healthy gal.
I'm a pretty girl with a brindle coat, a white chest, and white socks on my feet.
They think I might be part Lab or Greyhound since I'm definitely a mixed breed.
"DOMINO" - Tuxedo (Black & White) Short-Hair - FOSTER HOME NEEDED
1-3 yrs Female
I had my kittens on 5-3-19.
I'm still looking for a foster home, but now with my four kittens until they are weaned.
I'm a loving and attentive kitty.
I'm also a mischievous gal who loves to play.
I'm a pretty Tuxedo who looks like I'm wearing a mask.
I will play-bite, so it's best if there are no young children in the household.