There is the smell of gunpowder in the air in Friendship, Indiana.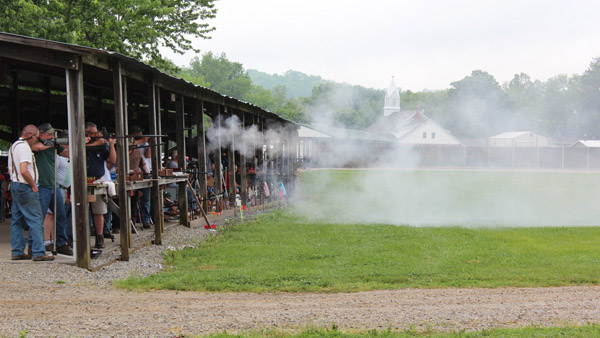 The National Muzzleloading Rifle Association Spring National Shoot is happening in Friendship June 9-17. Photo courtesy NMLRA.
(Friendship, Ind.) – In many communities, the sound of gunshots ringing out is not welcomed.
But at least twice a year, it is music to the ears of those in the little Ripley County town of Friendship. The National Muzzleloading Rifle Association is holding its annual Spring National Shoot at its headquarters home along Laughery Creek.
"Every shoot we have volunteers who help us in so many ways," says NMLRA President Joe Hill. "We have people volunteering for our youth range and beginner's bench programs; doing demonstrations around the property; serving as monitors in Gunmaker's Hall, the Rand House, the NMLRA Library, and Education Building Exhibit Hall; teaching our Range Officer and education classes; working as Range Officers: and filling the important role of dog soldier."
The shooting event is accompanied by the big Friendship Flea Market, which began last weekend. Shoppers can browse through a wide variety of arts, crafts, bargains, music, and more spread across 500 vendor spaces at the event billed as "Indiana's most unique flea market and antique show!"
The NMLRA shoot and the flea market will both continue through Sunday, June 17.
A closure of State Road 62 between Dillsboro and Friendship has been temporarily lifted to accommodate traffic heading to and from the NMLRA shoot and the flea market. But that doesn't mean visitors may not encounter some slower traffic as the tiny town sees thousands of visitors pour in.
The NMLRA and flea market will welcome big crowds back to town in September, when the NMLRA holds its annual fall championship shoot.