The state's two-year budget is expected to be in the ballpark of $35.8 billion.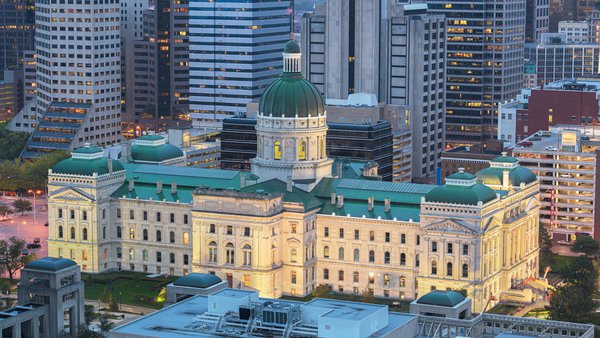 Shutterstock photo.
(Indianapolis, Ind.) – Senate Republicans have proposed a state budget that includes an increase for K-12 funding.
On Thursday, Senate Republicans released information regarding their $35.8 billion two-year state budget proposal for the fiscal years of 2022 and 2023.
The proposal includes $875 million in additional dollars for K-12 funding, makes one-time investments to produce long-term financial benefits for the state, and increases funding for mental health and law enforcement.
"The Senate Republican budget includes another historic increase in K-12 funding, which comes on top of the $3 billion in federal money our schools are already receiving," State Sen. Ryan Mishler said. "In addition to this significant infusion of dollars into K-12, we are able to reduce state government debt and make one-time investments that accelerate economic development while maintaining a balanced budget with strong reserves. I look forward to continuing budget discussions with my colleagues in the General Assembly and the governor as we work toward the close of this legislative session."
Highlights from budget proposal include:
Virtual students funded at 85 percent.
Maintains Teacher Appreciation Grant Funding at $37.5 million per year.
Maintains the Secured School Safety Grant at $19 million per year.
Provides $150 million to address student learning loss due to the pandemic.
$150 million over the biennium for the Regional Economic Acceleration and Development Initiative.
$60 million for Small Business Restart Grants
$4.2 billion over the biennium for higher education
Maintains current level of funding for child services.
Provides $70 million to Indiana Law Enforcement Academy for capital improvements.
Removes the fee for a handgun license and holds locals harmless from lost revenue.
Increases County Jail Maintenance for local jail holds.
Taxes e-liquids at $0.10/mL for closed systems at wholesale and 10 percent for open systems/devices at retail.
Indiana Chamber of Commerce President and CEO Kevin Brinegar commented on what he called a "woefully inadequate" tax on e-cigarette products.
"A tax on vaping products of only 10 cents per milliliter for e-liquids is entirely insufficient and arguably worse than no increase at all. Last week, Senate Leader Rod Bray indicated the e-liquids tax would bring that segment in line with the traditional cigarette tax. Unfortunately, the Senate Republican amendment adopted today absolutely does not do that. We are deeply disappointed that the Senate Republicans not only did not include an increase in the cigarette tax in the budget bill, but are now letting the e-cigarette sellers off with an unacceptably low tax rate."
For more information on Senate Republican's budget proposal, visit www.IndianaSenateRepublicans.com/budget.