Can you help police identify this man?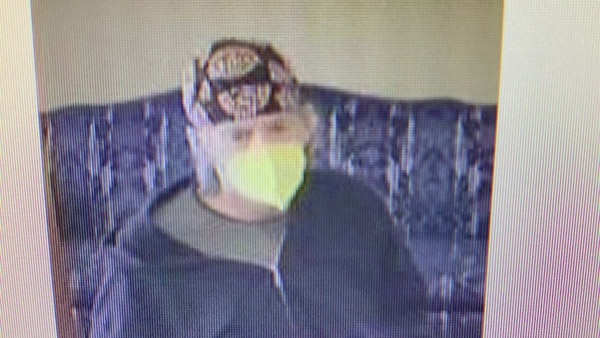 Photo provided by Lawrenceburg Police.
(Lawrenceburg, Ind.) – A bank robbery took place in downtown Lawrenceburg on Monday afternoon.
Lawrenceburg Police responded to Civista Bank on Walnut Street around 1:03 p.m.
According to a news release, a white male entered the bank and demanded money from a teller. The suspect stated he had a firearm, but never displayed a weapon. He fled the scene with an undisclosed amount of money and was last scene getting into the passenger side of a maroon or purple minivan heading north on Short Street.
The suspect is described as a white male wearing multi-color skull cap with gray stringy hair, khaki carpenter's pants, blue zip up jacket, khaki colored t-shirt and yellow face mask.
Anyone with information about the suspect or the suspect's whereabouts should contact Lawrenceburg Police at 812-537-2284.
Lawrenceburg Police was assisted today by the Dearborn County Sheriff's Office, Dearborn County Special Crimes Unit, Greendale Police, Aurora Police, Dillsboro Police, Indiana State Police and Indiana Gaming Commission.
Previous image
Next image