Leads to the Arrests of the Parents and a Sexual Predator
Concerned Citizen Provides Information Resulting in a Scott County Sheriff's Office Investigation - Leads to the Arrests of the Parents and a Sexual Predator
(Community Policing WORKS!)
Scott County-On 9-02-2022, Scott County Sheriff's Office Chief Deputy Toby Deaton and Detective First Sergeant Jacklyn Shofner immediately responded to a local motel in Scottsburg after an anonymous tip was received that a child was possibly being molested at the motel. Upon arrival, Chief Deaton and Detective Shofner located the parents, identified as Robin English, 22, and Christopher Greene, 46, both from Jackson County Indiana, and two (2) young children (ages not disclosed) living at the motel. The Scott County Department of Child Services (DCS) was notified and a request was made for them to respond to the scene. DCS removed the children, placing them in a safe environment. Robin English and Christopher Greene were interviewed at the Scott County Sheriff's Office in Scottsburg regarding the information received that a child in their care was allegedly being molested. After multiple interviews over the next several days, it was discovered that both Robin English (the mother of the child) and Christopher Greene (the stepfather of the child) knew the child was allegedly being molested by James Anderson, 36, of Freetown, Indiana. It was also discovered that Robin English, Christopher Greene, and James Anderson were living in motels in Jackson County before coming to Scott County where they were caught. The investigative report and findings were referred to the Scott County Prosecutor, where the following charges were formally imposed;
Robin English;
IC 35-46-1-4(A)FL6 ~ Neglect of a Dependent (2 counts) IC 35-42-4-3(A)(1)FL1 ~ Child Molest - Committed by a Person at least 21y/o IC 35-42-4-3(B)(1)FL4 ~ Child Molest - Performs or Submits to Fondling or Touching a Child under 14 IC 35-42-4-5(C)FL6 ~ Performing Sexual Conduct in the Presence of a Minor -Sex/Touches/Fondles Self IC 31-35-5-1 ~ Failure to Make a Report
Christopher Greene;
IC 35-46-1-4(A)FL6 ~ Neglect of a Dependent (2 counts) IC 35-42-4-3(A)(1)FL1 ~ Child Molest - Committed by a Person at least 21y/o IC 35-42-4-3(B)(1)FL4 ~ Child Molest - Performs or Submits to Fondling or Touching a Child under 14 IC 35-42-4-5(C)FL6 ~ Performing Sexual Conduct in the Presence of a Minor -Sex/Touches/Fondles Self IC 31-35-5-1 ~ Failure to Make a Report
James Anderson;
IC 35-42-4-3(A)(1)FL1 ~ Child Molest - Committed by a Person at least 21y/o IC 35-42-4-3(B)(1)FL4 ~ Child Molest - Performs or Submits to Fondling or Touching a Child under 14 IC 35-42-4-5(C)FL6 ~ Performing Sexual Conduct in the Presence of a Minor -Sex/Touches/Fondles Self
Sheriff Goodin advised the following concerning this investigation..."I want to publicly thank the anonymous citizen who provided the tip to our office about this appalling situation...because of this tip, a child is no longer being harmed".
Information - James Anderson was arrested on a warrant that was issued (9-15-2022).
Assisting with this investigation were the Scott County Department of Child Services, and the Scott County Indiana Prosecutors Office.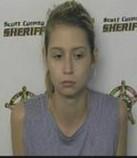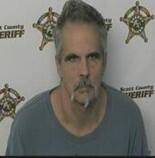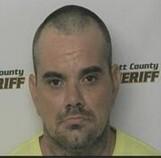 Robin English Christopher Greene James Anderson