A total of four people are now facing charges for the June 2018 murder of Dennis Dziwulski.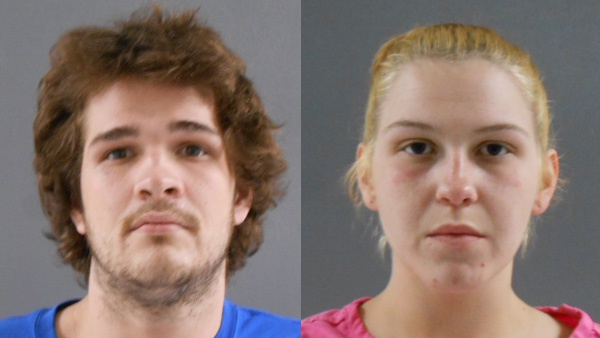 Siblings Michael and Victoria Hall have been charged in connection with the 2018 murder of David Dziwulski in Switzerland County. Photos by Switzerland County Sheriff's Office.
(Switzerland County, Ind.) - Two new suspects are being charged with the 2018 murder of a Switzerland County man.
David Dziwulski's remains were found in a wooded area near his mobile home on Beatty Ridge Road last June. His ex-girlfriend, Vivian Moore, and her son, Justin Girdler, each stand accused of his murder.
Indiana State Police investigators say Moore and Girdler killed Dziwulski following a domestic violence situation between the couple at the home they shared. Switzerland County deputies had been at the home earlier that evening, but did not make any arrests.
On May 13, Switzerland County prosecutors filed new charges against Madison, Indiana siblings Michael Allen Lee Hall, 20, and Victoria Rose Hall, 22. Victoria Hall was Girdler's girlfriend, according to court documents.
After the domestic altercation, Moore left the home with her son. They returned later that night with the Hall siblings.
Victoria Hall went into the mobile home to use the bathroom. She sent a text message to Girdler's cell phone: "He's on the couch Wifey&MommyOfThree".
Michael Hall allegedly witnessed the murder of Dziwulski as he was sleeping on a couch, he told police during several interviews. Hall allegedly told investigators that Moore struck Dziwulski with an iron skillet and Girdler hit him with a hammer.
Hall once struck Dziwulski in the head with the hammer. He told detectives he believed it was after the victim was already dead from previous strikes by the other two.
Hall said he then helped to relocate the body beneath the mobile home. As the body was being moved, Victoria Hall was allegedly serving as a lookout outside the home.
Michael Hall claimed he had been threatened by Moore to strike Dziwulski and to move the body beneath the mobile home. The remains were later moved to some nearby woods.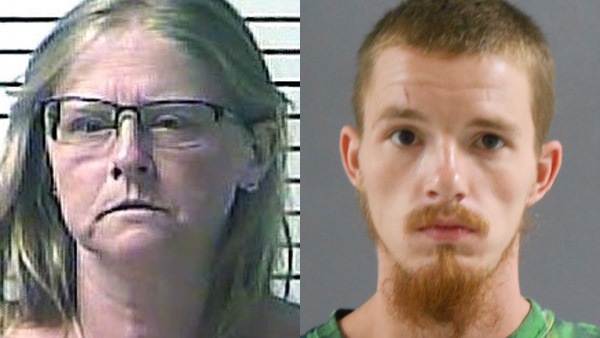 Vivian Moore and Justin Girdler were the first two suspects charged win the 2018 murder of Dennis Dziwulski. Two new suspects, Michael Hall and Victoria Hall, are now facing charges in the case, too. File photos.
The Halls helped in an attempt to get rid of Dziwulski's vehicle as Moore and Girdler allegedly concocted a plan to make it appear as though Dziwulski had left Switzerland County to return to his original home in Maryland. A security camera at a gas station near the Markland Dam captured Girdler and Victoria Hall park there on the way to hide and abandon Dziwulski's vehicle in Carroll County, Kentucky, investigators say.
After Kentucky State Police discovered the abandoned vehicle and Dziwulki's relatives voiced concern for his well-being, authorities went to the Beatty Ridge home. They found his remains in the woods about 50 yards from the home.
According to the affidavit, Victoria Hall and Girdler exchanged text messages following the murder.
"I love you baby and after last night you showed me that you was not gonna leave me even in thw very worst of times your are ny forever and always," Girdler texted to Hall.
"I don't that's your mom and id do anything for my mom so I get it," Hall replied.
Michael Hall is charged with Aiding or Inducing Murder, Conspiracy to Commit Aggravated Battery (level 3 felony), Assisting a Criminal (level 5 felony), Aiding or Inducing Obstruction of Justice (level 6 felony), and Obstruction of Justice (level 6 felony).
Victoria Hall's charges include Aiding or Inducing Aggravated Battery (level 3 felony), Conspiracy to Commit Aggravated Battery (level 3 felony), Assisting a Criminal (level 5 felony), and Aiding or Inducing Obstruction of Justice (level 6 felony).
A jury trial for the Halls has been scheduled for October 8, 2019 in Switzerland County Circuit Court.
Michael Hall's has been ordered held without bail.
Victoria Hall has requested a reduction of her $20,000 cash only bond, with a hearing on the matter scheduled for May 31.
RELATED STORIES:
Victim's Ex Is Second Person Charged In Switzerland County Murder
Human Remains Found In Switz. Co Identified; Victim's Wife's Son Accused Of Murder