Gusting to 45 mph
The National Weather Service in Louisville has issued a Wind Advisory, which is in effect from 10 AM EDT to 8 PM EDT Thursday.

* TIMING...Thursday morning through Thursday evening.

* WINDS...Sustained winds 15 to 25 mph with gusts as high as 45 mph.

* IMPACTS...Tree limbs and branches may fall and some weakened trees may be uprooted, leading to possible power outages. Driving may be difficult for high profile vehicles on east-west roads.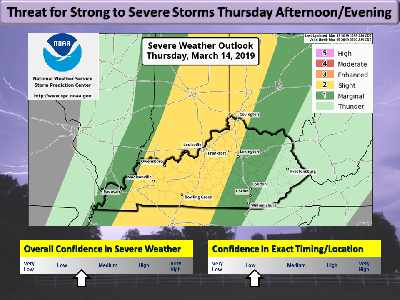 A Wind Advisory means that wind gusts of over 40 mph are expected. Winds this strong can make driving difficult... especially for high profile vehicles. Use extra caution.