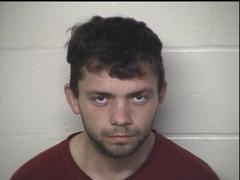 Suspect found riding it
Thursday, Lt. Joe Nicholson of the Scottsburg Police Department, responded to a theft of a motorized wheelchair from a residence on south Elm street.
The victim was a 94 year old World War II veteran who had parked the wheelchair under his carport
Later in the day Lt. Nicholson located Ronald Smith riding in the wheelchair on South Lake Road. Ronald Smith was arrested for Theft and transported to the Scott County Sheriffs Department.

* All suspects are presumed innocent until proven guilty in a court of law.
SMITH, RONALD
Booking #: SCJAIL:2019-001352
Booking Date: 11-14-2019 - 12:27 pm
Charges: IC 35-43-4-2(A)(1)(A)FL6 ~ THEFT - GREATER THAN $750 LT $50,000
IC 35-43-2-2(B)MA ~ CRIMINAL TRESPASS
IC 35-43-4-2.5(C)FL6 ~ THEFT -- RECEIVING STOLEN PROPERTY