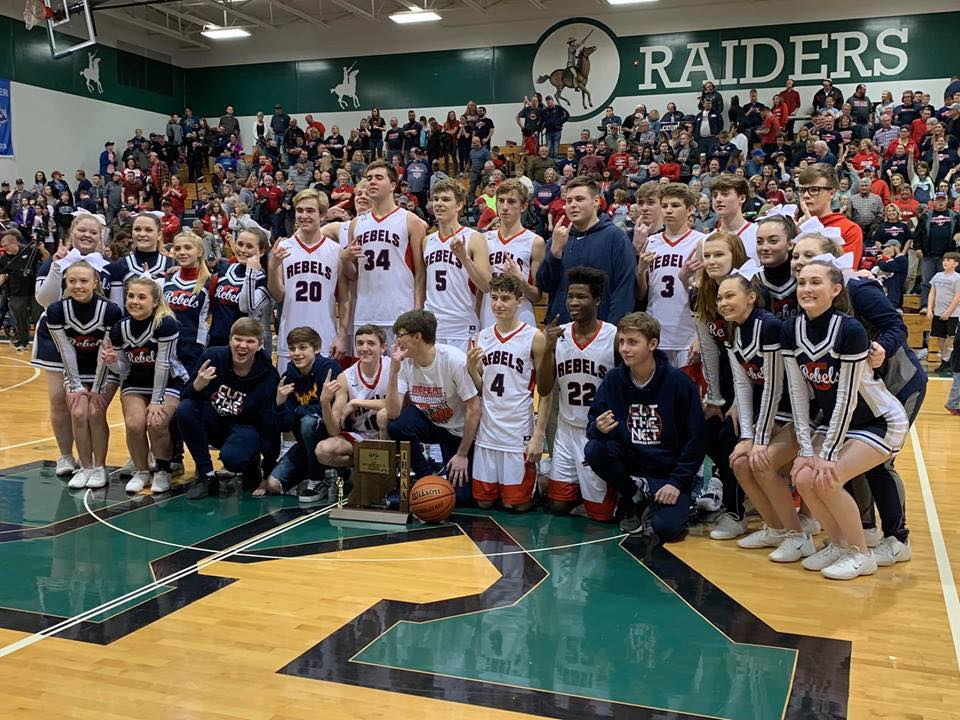 Tell City in regional at Paoli
It was "Hoosier Hysteria" at it's best as #1 Southwestern came back in the second half to defeat upset minded Milan 68-52 to win their 2nd 2A Sectional Championship in a row.
Southwestern vs Milan Sectional Championship Boxscore
Senior Tyler Kramer had been suffering with a sinus infection the entire week came into the semi-final game against South Ripley and scored 15. In the championship "TK" was 14/17 from the field, 6/16 from above the arch and 4/5 from the free throw line for 38 points.
Rebels trailed 18-17 at the end of the first and went into the locker room at half down 28-17. Southwestern came alive in the second half outscoring the Indians 41-14 for the win.
The win was the third "Back-To-Back" Sectional title for the Rebels, winning in 1973 & 1974, 1997-1998 and now 2018 & 2019.
Southwestern Tournament History
The win was Southwestern's 25th of the season a new school record for wins in a season, the old record set last year in the sectional championship. It was also Coach Bomholt's 150th win at Southwestern and his 535th win of his career putting him as the 9th WINNINGEST CURRENT COACH in Indiana High School Basketball.
Southwestern will take on 11th ranked Tell City on Saturday at noon at the Paoli Regional.
CLASS 2A at North Judson:
Marquette Catholic vs #14 Andrean
#5 Westview vs Bluffton
CLASS 2A at Lapel:
#16 Wabash vs #4 Frankton
#13 Covington vs Alexandria
CLASS 2A at Greenfield-Central:
Monrovia vs Northeastern
#2 Shenandoah vs #10 Heritage Christian
CLASS 2A at Paoli:
#8 Linton-Stockton vs #9 Paoli
#1 Southwestern vs #11 Tell City
95.3 WIKI will be at Paoli to broadcast the game with Larry Duke and Rob Lafary starting at 11:45am