Post season action
Two area athletes are headed to the IHSAA Boys State Track and Field Championships after performances in the Bloomington North Regional. Madison's Daunte O'Banion won the 400 dash with a school-record time of 48.44. That time represents the 4th-fastest in the state. Southwestern's Mitchell Cline placed 4th in the 400 dash in 49.80, a time that should qualify him for the state finals.
Madison as a team finished 11th and Southwestern 14th. State Finals will be held next Friday at Indiana University.
Bloomington North Track Regional Full Results
Hanover College Senior, Erin Trimpe, cleared 3.65m to tie for the 16th-best mark at the NCAA Division III National Championships. Due to tiebreakers with previous jumps, the senior settled for 20th place. Sophomore Erin Browning competes in the national championship hammer throw event tomorrow at 11 a.m., in Geneva, Ohio.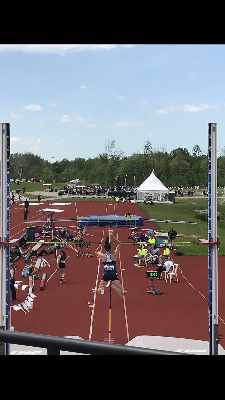 IHSAA BASEBALL SECTIONAL:
Southwestern advances to the South Ripley Sectional Championship on Monday at 11am after defeating Milan 3-0. Rebels will take on Austin who defeated South Ripley 1-0.
Shawe hosts Borden at 7 tonight in their post season opener at Post 9 Field.
Madison opens post season play tomorrow at the South Dearborn Sectional 11:30 against Greensburg.
IHSAA SOFTBALL SECTIONAL:
Mother Nature picked up a win last night moving the Switzerland Co. Sectional Championship to tonight at 6 as Southwestern takes on the host Lady Pacers.
KHSAA 8th REGION PAIRINGS:
BASEBALL: Carroll Co. takes on Collins tomorrow at 7:30 at Simon Kenton
SOFTBALL: Carroll Co. will battle Oldham Co. tomorrow at 5:30 also at Simon Kenton