High School Boys Basketball and Girls Wrestling State Finals
HIGH SCHOOL BOYS BASKETBALL:
Southwestern over Switzerland Co. 77-45. Forster Mefford leads the Rebels with 26, Billy Eccles has 25. Damian Breeck 18, Coby Chase 11 for the Pacers.
New Albany defeats Madison 57-53. Cubs were led by Luke Ommen who had 15 points, Kaden Oliver had 13 points, Luke Miller had 10 points.
Shawe falls to Trinity Lutheran 70-55. Ethan Stuart with 20 for the Hilltoppers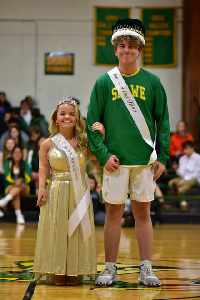 (2020 Shawe Homecoming Queen, Caroline Grote and King, TJ Stitzel: Shawe Memorial Facebook Photo)
Henry Co. over Trimble Co. 96-72. Dylan Jennings 21 to lead the Raiders.
Indiana Wrestling Coaches Association Girls Wrestling State Championships in Kokomo.
Madison's Kelsey Bilz finishes 4th at the girls state wrestling finals.