Madison football breaks 8 game losing streak
FRIDAY, SEPTEMBER 13th:
FOOTBALL FRIDAY NIGHT:
Madison ended a 8 game losing streak as they defeat Bedford North Lawrence 21-20
Switzerland Co. led 6-0 at half and were tied at 6 with Edinburgh at the end of regulation as the Pacers go on to defeat the Lancers in double overtime 22-14
HIGH SCHOOL BOYS TENNIS:
Southwestern over New Washington 4-1
HIGH SCHOOL BOYS SOCCER:
Jac-Cen-Del defeats Southwestern 5-0
HANOVER COLLEGE ATHLETICS:
Volleyball over Capitol 3-0 in the Hanover Invitational
Men's soccer falls to Thomas More 2-0
SATURDAY, SEPTEMBER 14th:
HIGH SCHOOL BOYS TENNIS:
Southwestern finishes 3rd in the Southern Indiana Tennis Conference Championships. Rebels fall to Christian Academy 4-1 in the first round and defeats Trinity Lutheran for 3rd 3-2. The Rebels had two all-conference players of Landon DeAtley and Jordan DeAtley
Madison Boys fell to Batesville, Columbus North & Providence 5-0 at Columbus North Invitational.
HIGH SCHOOL CROSS COUNTRY: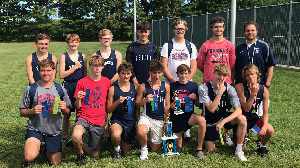 Southwestern Boys won their 5th straight Jac-Cen-Del Invitational Championship while the girls finished 6th. Rebels finished 1, 3, 4, 5 & 6 with Trevor Smith taking first. Kirsten Geary finished 16th for the Lady Rebels.
Trimble Co. boys finished 6th over all at the Fleet Feet Invitational in Louisville. Jessup Smith finished 8th for the Radiders. Lady Raiders did not have a complete team as Rebecca Kainer finished 3rd overall.
Madison boys finished 20th in the 2A division of the Brown Co. Eagle Classic. Luke Mccarty was the Cubs top runner in 94th. The Lady Cubs finished 12th overall in the 2A division with Clare Wilber their top finisher at 27th.
HIGH SCHOOL VOLLEYBALL:
Madison falls to Rock Creek 3-1
Evansville Christian over Christian Academy of Madison 3-2
Southwestern went 1-2 at the Greenwood Invitational.
lost to Monrovia 0-2
lost to Greenwood 1-2
defeated Edinburgh 2-0
HIGH SCHOOL GIRLS SOCCER:
Madison over Bedford-North Lawrence 1-0
Carroll Co. defeats Pendleton Co. 2-1 but falls to Grant Co. 5-1 at Dry Ridge Toyota Invitational
HANOVER COLLEGE ATHLETICS:
Football picks up their first win of the season defeating Adrian College 49-28
Women's soccer ties Wittenberg 2-2 in two overtimes
Women's tennis falls to Anderson 6-3
Volleyball defeats Trine 3-0 and Adrian 3-1 to go 3-0 in the Hanover Invitational
SUNDAY, SEPTEMBER 15th:
HANOVER COLLEGE ATHLETICS:
Women's golf finishes 9th out of 17 at the Illinois Wesleyan Fall Classic.