Honored for contributions to basketball programs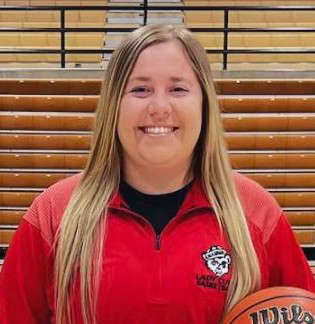 MADISON GIRLS BASKETBALL ASSISTANCE COACH KELSEY BLOCK WILL RECOGNIZED WITH A POINT GUARD COLLEGE/ INDIANA TRANSFORMATIONAL COACH AWARD
This is the seventh year for the PGC/Indiana Transformational Coach Awards, which are presented to coaches who have impacted the lives of their players and fellow coaches at their school and within their community. The recipients are coaches who are respected by their players and fellow coaches for their dedication, positive approach and integrity on and off the court. Point Guard College is a corporate partner of the IBCA.
Transformational Coach: Kelsey Block, Madison girls' assistant
You might say that Kelsey Block has given her heart and soul to the Madison High School girls' basketball program.
A former Lady Cubs' player, Block recently completed her seventh season as a coach in the program, including her fourth at the high school level. Testimonials come from a variety of sources with a singular theme of how much she helps the players achieve both short-term and long-term goals. Thus, Block has been named a winner of the 2023 IBCA/PGC Transformational Coach Award.
"Kelsey is not only involved at the high school level, but she has been instrumental in helping me with the entire program," Madison head coach Adam Dennis said in nominating Block. "She is currently running junior high practices and coaching eighth-grade games as our eighth-grade coach needed a fill-in for several games towards the end of this season.
"Kelsey has helped me run camps for our second- through eighth-grade players. She has helped me run 3-on-3 leagues for both the boys and the girls basketball players in our community. Whenever I have needed help with an event, camp, clinic, practice or game, she has been there for me. She is the perfect assistant coach in work ethic, knowledge and skill. All of the players in our program know who she is."
Madison athletic director Patric Morrison said Block's commitment to the game and community is evident.
"Over the past four years, I have observed Kelsey lead practice and youth development camps all while putting in the extra time outside of the regular season to help develop our student-athletes," Morrison said. "She stresses fundamentals and learning how to play the game the 'right way.' As a result, she is developing players who also share the same passion she has for the game. Kelsey not only is a quality coach but an avid member of our community."
Former player Taylor Lynch said that Block was instrumental in helping Lynch land a spot in the women's basketball program at U.S. Coast Guard Academy in New London, Conn.
"Coach Block works with individual players constantly to improve their skill sets on the court," Lynch said, noting that Block was her coach in middle school and high school. "Coach Block has a knack for the game of basketball, but she also has a work ethic that I strive to maintain myself.
"I never will forget the months I spent with Coach Block in leading to my reporting for basic training. She met me at our high school gym at 0630 at least two times every week to do basketball, strength and agility training. She would go to work, then come back to the gym and put me through an evening workout. In addition, Coach Block reached out to my current (college) coaches because she knew how badly I wanted to play for Coast Guard Academy. She took the initiative to make my dream come true, and she stuck with me in preparation. Coach Block worked for my success and aspirations as if they were her own."
A 2012 Madison graduate, Block was a key player on Lady Cubs' teams that went 48-42 and won two sectional titles, one regional crown and scored 884 points to still stand 11th on the program's all-time scoring list. As a senior, she was named all-Hoosier Hills Conference, Madison Courier Player of the year and IBCA honorable mention All-State.
Block briefly attended the University of Southern Indiana, but then transferred to Hanover College. In four seasons with the Panthers, she totaled 481 points, 117 rebounds for teams that went a combined 66-43 and won Heartland Collegiate Athletic Conference Tournaments when she was a freshman and junior.
Once done playing, Block immediately became a coach and quickly made a significant impact. In 2016-17, Block coached the Madison Middle School seventh graders and a sixth-grade travel team. In 2017-18 and 2018-19, she coached the middle school eighth graders. Currently a middle school health teacher, Block moved to the high school program in 2019-20 and has been a key assistant for four seasons.
"While I was fortunate to have had Coach Block as a mentor, I am not the only one," Lynch said. "Coach Block continues to impact others' stories just as she did mine with her character and love for the game. Every player who goes through the Lady Cubs' program recognizes Coach Block's tireless efforts to give back. … Coach Block is an astounding person and a once-in-a-lifetime coach."
Morrison noted that one of the things that makes Block stand out is she is someone who knows where the Madison basketball program has been, where it currently is and where it needs to go in the future.
"Kelsey is tough, but fair, and always encourages her players," the athletic director said. "Through her work on and off the court, it is clear that she is committed to constant improvement of her ability to be a better coach each and every day. She undoubtedly is a coach who always will put in 100 percent effort."
Dennis spoke of Block's commitment as well.
"Our coaches and our players love Kelsey," he said. "They are completely aware of how fully she pours her heart into their lives. They trust that she is always going to show up for them in whatever way they need her to. I don't think there is anyone who could question her dedication, approach or integrity. She is an all-star coach and an all-star person."