H1 Unlimited photo
5th Cup, 4th in the last 6 years
It was a perfect Gold Cup weekend for the U6 Homestreet Bank Miss Madison and Jimmy Shane as the hometown hydro was 4 for 4 in heat wins and went on to win the 114th Gold Cup Championship in front of the hometown crowd.
It was the Miss Madison's 5th Gold Cup Championship and 4th in the last six years. The Madison won their first Gold Cup in 1971 at home which inspired the movie Madison.
U-7 Spirit of Detroit-Bert Henderson was 2nd, U-12 Graham Trucking- J Michael Kelly 3rd, U-11 J&D's Presented by Reliable Diamond Tool -Tommy Thompson 4th, U-1 Auxier Marketing presents Delta RealTrac-Andrew Tate and U-98 Graham Trucking American Dream-Corey Peabody DNF. Tate and the U-1 was given a 1:00 penalty for jumping the start. U-440 Bucket List Racing Dustin Echols team and Kelly Stocklin did not make the finals.
Results of the Madison Regatta-Gold Cup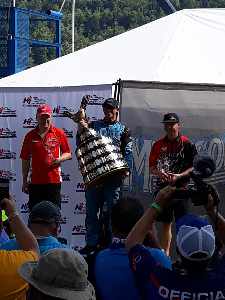 (WIKI-Josh Myers Photo)
The Truss. Company/Mane Attraction winners of 2019 Madison Regatta and UIM/APBA. North American Champions.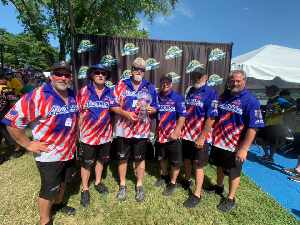 (The Grand Prix World supercharged hydroplane series Facebook photo)
After two of the five races this season, Jimmy Shane and the Miss Madison has a 1081-point lead in the National High Point Standings over J. Micheal Kelly and the Graham Trucking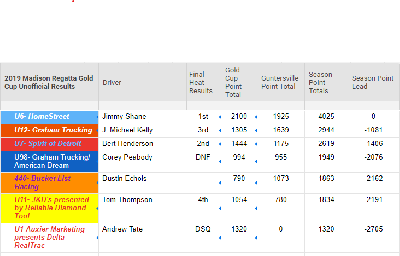 (National High Point Standings per H1 Unlimited)
The fleet now heads west for the final three races. Up next the Columbia Cup in Tri-Cities, Washington July 26-28.
The Gold Cup returns to the Madison Regatta next year July 4th & 5th, 2020. It will also mark the 70th year for racing on the Ohio River in Madison.