Ribbon Cutting set for this Thursday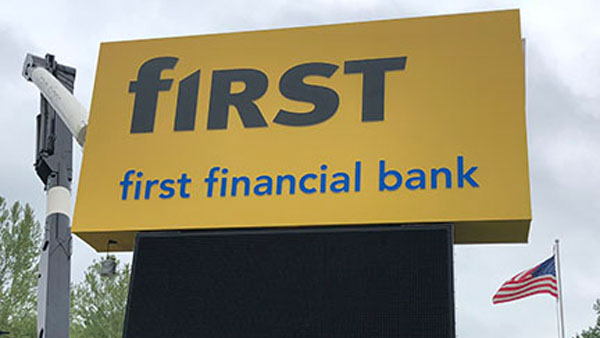 The grand reopening is scheduled from 4-6 p.m. on Thursday, June 23, at the First Financial Madison North location, 501 Clifty Dr., Madison, Indiana, 47250.)
Madison, IN – June 21, 2022 – First Financial Bank (Nasdaq: FFBC) is celebrating the grand reopening of its completely updated Madison North Financial Center on Thursday, June 23, with a ribbon-cutting ceremony and donations totaling $1,000 to the community.
"We completely remodeled this center with the surrounding community in mind," said Stephanie Withered, First Financial district leader for the area. "We want this to be a location where people can make plans toward stronger financial wellbeing, for themselves and their businesses. In this new setting, we have both the well-rounded expertise and an extremely welcoming environment to foster these types of conversations."
For the first time, First Financial is offering a community room for public use in this center, located at 501 Clifty Dr. in Madison. The community room can accommodate up to 30 people and is available with a reservation and at no charge to the public.
During the grand reopening, First Financial will donate $500 each to Madison's River Valley Resources and Jefferson County House of Hope. Community leaders, including the mayor of Madison and others, are expected to attend and speak at the ribbon-cutting ceremony.
The Madison North financial center will also serve as a First Financial hub location. Compared to a traditional bank branch, Madison North has a more comprehensive offering of specialized services. Instead of being positioned in a centralized headquarters, these services are forward deployed to serve Madison and other nearby communities in both Indiana and Kentucky. In particular, Madison North will offer small business expertise to support entrepreneurial activity in the community.
The newly renovated space at Madison North is ideal for community meetings and entrepreneurial activity. Guests can enjoy free coffee and WiFi.
About First Financial Bancorp.
First Financial Bancorp. is a Cincinnati, Ohio based bank holding company. As of March 31, 2022, the Company had $16.0 billion in assets, $9.2 billion in loans, $12.8 billion in deposits and $2.1 billion in shareholders' equity. The Company's subsidiary, First Financial Bank, founded in 1863, provides banking and financial services products through its six lines of business: Commercial, Retail Banking, Investment Commercial Real Estate, Mortgage Banking, Commercial Finance and Wealth Management. These business units provide traditional banking services to business and retail clients. Wealth Management provides wealth planning, portfolio management, trust and estate, brokerage and retirement plan services and had approximately $3.3 billion in assets under management as of March 31, 2022. The Company operated 135 full-service banking centers as of March 31, 2022, primarily in Ohio, Indiana, Kentucky and Illinois, while the Commercial Finance business lends into targeted industry verticals on a nationwide basis