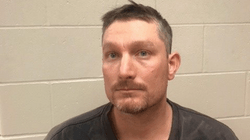 Jefferson Co. Jail
Investigation began back in June
A former correctional officer at the Madison Correctional Facility has been arrested on sexual and official misconduct charges, according to the Indiana Department of Correction.
Robert L. Jones, 38, Lexington, was arrested yesterday after an internal investigation, and was booked into the Jefferson County Jail with bond set at $2,000.
Durning a June 20th interview, an inmate at the facility told investigators she and Jones are in love, and they have had sex multiple times.
While the woman says the sex was consensual, it's against the law for a guard to have sex with an inmate in Indiana.
Jones, was hired in 2014, abruptly quit his job on June 20 of this year — the same day investigators interviewed the inmate, according to an affidavit filed in the Jefferson Co. Court.. He refused to speak to investigators without an attorney, the affidavit said.
Jones was charged sexual misconduct and official misconduct, both felonies.