Kentucky leads the nation with statewide domestic violence data project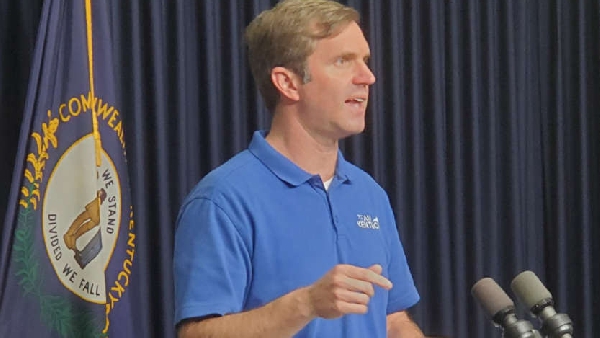 FRANKFORT, Ky. (Nov. 16, 2023) – Today, Gov. Andy Beshear furthered his commitment to public safety by awarding $2,233,948 to 32 organizations across the commonwealth that work to combat domestic violence as well as support and seek justice for survivors. The Beshear administration is also working with the Council of State Governments to launch the council's largest statewide domestic violence data project.
"As Governor, my top priority is to make our commonwealth safer for every Kentucky family," Gov. Beshear said. "So, I am proud that today we are investing more than $2 million to support domestic violence survivors and tackle violence in our communities. Additionally, with the launch of our new statewide domestic violence data project, we are leading the nation in efforts to combat domestic violence."
"By working together, we can enhance the safety of every community in the commonwealth," said Lt. Gov. Jacqueline Coleman. "This partnership emphasizes our commitment to ensuring domestic violence survivors have access to safety, justice and healing in Kentucky."
Violence Against Women Act Awards
The $2 million in funding is being awarded from the federal Violence Against Women Act grant program focused on stopping sexual assault, domestic violence, dating violence and stalking. Funds are allocated for law enforcement, prosecutors, victim services and state and local courts. It also supports community and local projects serving adult and youth (ages 11-17) victims.
For a full list of 2023-2024 sub-award recipients, click here.
Leaders from several organizations explain how these funds allow them to better serve their clients through services, advocacy and shelter.
"We are truly honored to have been selected for a VAWA subaward for 2024," said Fayette County Sheriff Kathy Witt. "The Office of the Fayette County Sheriff understands the critical needs that survivors of violence face every day in their journey to be free. This funding will allow us to strengthen the safety net for survivors and hold offenders accountable."
"Safe Harbor provides lifesaving services because of VAWA," said Safe Harbor of Northeast Kentucky Inc. Executive Director Ann Perkins. "Our program cannot serve the volume of victims without the funding from this grant. We are grateful and thankful and hope that Congress realizes the value of this funding and the lives that it saves. Saving lives is always well spent money."
"Funding from VAWA will assist us to continue to expand our team of SANE (Sexual Assault Nurse Examiners), allowing us to maintain 24/7 hospital coverage and provide services to victims of sexual assault and domestic violence," said Kristina Tapio, SANE/Forensic Program Manager at Baptist Health Hardin. "The funding also provides compensation for a medical provider to offer follow-up care, aiding in the healing and recovery for individuals who have been through a traumatic event."
Statewide Domestic Violence Data Project
Gov. Beshear said the state needs quality, accurate data to help end domestic violence and enhance the safety of every community in the commonwealth.
To improve outcomes for survivors, the executive, judicial and legislative branches, as well as the Kentucky State Police, Department of Corrections, Administrative Office of the Courts, the Justice and Public Safety Cabinet's Criminal Justice Statistical Analysis Center and ZeroV are partnering with the CSG Justice Center. This is the council's largest statewide domestic violence data project. The group will analyze domestic violence data and then make policy recommendations to improve services and prevent victimization. This project is expected to be completed by the end of 2024 at no cost to Kentuckians.
"We know that domestic violence victimization leads to far-reaching health impacts. Children who are exposed to domestic violence experience emotional, mental and social trauma, adversely affecting their development," Justice and Public Safety Cabinet Secretary Kerry Harvey said. "Kentucky doesn't tolerate domestic violence, which is why this administration is doing everything it takes – from data collection to awarding grant funding, championing legislation and working across party lines – to end this abuse and empower survivors."
"The Council of State Governments Justice Center is proud to partner with Kentucky on this exciting Justice Reinvestment Initiative," said CSG Justice Center Director Megan Quattlebaum. "It's inspiring when leaders from all three branches of government come together to use data and research to guide their understanding of complex criminal justice challenges and identify impactful solutions. Kentucky is one of the first states to utilize the Justice Reinvestment approach to analyze and address the problem of domestic violence specifically, and we look forward to supporting the state as it tackles this critical issue."
Today's news follows last month's announcement that a $2.5 million U.S. Department of Justice grant has been awarded to Kentucky to further assist law enforcement in bringing justice to victims of sexual assault. This year's funding is the second-largest award in the history of the commonwealth from the department's Bureau of Justice Assistance.
The Beshear-Coleman administration has awarded more than $133 million in grant funding to victim service agencies across the commonwealth, which has provided victim services to approximately 258,000 Kentuckians.
This year, the Governor signed Senate Bill 271 and House Bill 535, requiring the collection and analysis of data related to domestic violence in the commonwealth, including domestic violence fatalities, domestic violence shelter use and reports of child abuse. In June, the Beshear-Coleman administration compiled the first statewide data report on domestic violence statistics.
Also in June, Gov. Beshear and Secretary of State Michael Adams celebrated legislation becoming law that created the Safe at Home Program, which protects the residential addresses of survivors of domestic violence and other sexual crimes as well as the addresses of those who reside in the same household as the victim. To gain this protection, the victim or the individual residing in the victim's home must apply to the Secretary of State's Office to have the address protected.
In April, the Governor signed legislation that doubled the weekly amount available for crime victims for lost wages to $300 per week from $150 per week; increased the amount available for funeral expenses to $7,500 from $5,000 and increased the overall total award available to $30,000 from $25,000.
On March 27, Gov. Beshear  signed into law three bills to protect all Kentuckians from heinous crimes, such as incest, as well as protect children against those who have committed these crimes.
Report Domestic Violence
Kentucky's domestic violence programs and shelters are open 24/7 and are safe for survivors and their families to receive emergency shelter and supportive services. If you or someone you know is a victim of domestic violence and needs assistance, please reach out to the National Domestic Violence Hotline by calling 800-799-SAFE or clicking here.