The announcement will be made tonight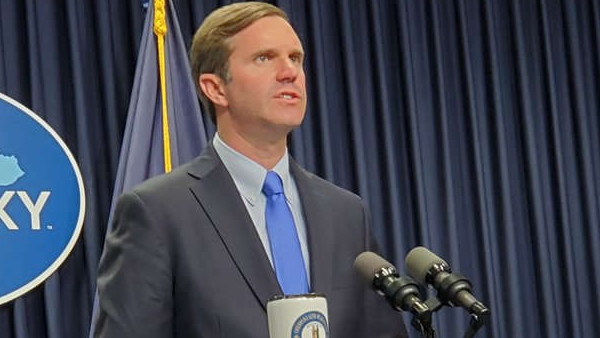 FRANKFORT, Ky. (Sept. 26, 2022) – Kentucky Gov. Andy Beshear designated Today, Sept. 27, 2022, as KenTRUCKy Day to celebrate Ford's 109-year history in the commonwealth and tomorrow night's special Churchill Downs reveal of the all-new Ford F-Series Super Duty® truck.
Ford is celebrating 45 years of F-Series as the best-selling pickup in America and the leading choice for industries across the country to get the job done. The next-generation Super Duty – built at Ford's Kentucky Truck Plant – debuts tomorrow at 7:15 p.m. EDT at Churchill Downs, home of the Kentucky Derby. The reveal will be livestreamed on Ford's YouTube channel.
"To honor Ford's investment and this great Team Kentucky partner, I have officially proclaimed Sept. 27, 2022, KenTRUCKy Day in the commonwealth," Gov. Beshear said. "Kentuckians have been building Ford trucks since the Model T, and we are thrilled this tradition is going to continue with the all-new Ford F-Series Super Duty."
"Ford's roots run deep in Kentucky. We hope Kentuckians take just as much pride in building America's favorite truck as they do in their basketball, bourbon and thoroughbreds," said John Savona, vice president, Americas manufacturing and labor affairs, Ford Blue. "On behalf of our 12,000 Ford and UAW employees, we thank Gov. Beshear for supporting this KenTRUCKy Day celebration."
Gov. Beshear's KenTRUCKy Day proclamation reads:
WHEREAS, Ford Motor Company employs more than 12,000 people in Kentucky and supports approximately 120,000 jobs in the Commonwealth; and 
WHEREAS, Ford Motor Company has a 109-year history in Kentucky and a state GDP contribution of $11.8 billion; and 
WHEREAS, Ford Motor Company and its partners have announced plans to add 5,000 more jobs and invest $5.8 billion to build BlueOvalSK Battery Park to assemble batteries to power the next generation of Ford and Lincoln vehicles; and 
WHEREAS, Trucks are essential to families and businesses, large and small, across the Commonwealth of Kentucky; and 
WHEREAS, Today, Ford is the largest vehicle producer in the Bluegrass State; and 
WHEREAS, There are 8,500 people who work at Ford Motor Company's Kentucky Truck Plant where F-Series Super Duty Trucks are produced; and 
WHEREAS, Ford Motor Company will reveal the all-new 2023 Super Duty Truck in Louisville Kentucky on September 27, 2022 
NOW, THEREFORE, I, Andy Beshear, Governor of the Commonwealth of Kentucky, do hereby proclaim that September 27, 2022, be known as 
KENTRUCKY DAY 
Click here to view the official proclamation.

Also, Today, Tuesday, Sept. 27, at 10:30 a.m. EDT at Ford's Kentucky Truck Plant in Louisville, the Governor will join John Savona, Louisville Mayor Greg Fischer and Ted Cannis, CEO, Ford Pro, to discuss an economic announcement.
Today's announcement comes exactly one year after Gov. Beshear and executives from Ford Motor Co. – along with its partner, SK Innovation – announced the largest economic development project in the commonwealth's history: a nearly $6 billion investment in electric vehicle battery production that's creating 5,000 jobs powering next-generation electric Ford and Lincoln vehicles in Hardin County.