Happy New Year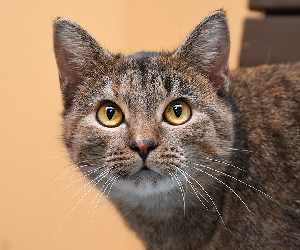 My name is "TERRA",
I'm a pretty girl with a loving nature and a nice purr.
My fur coat is the colors of autumn. I'm a Tabico - that's a Tabby/Calico mix.
I'm not particularly fond of being picked up and carried.
So, a household without young children would be my preference.
If you have dogs, be sure I have a space of my own to get away from them.
I am not mean to dogs, but I'm 3- to 4-years-old and will need time to adjust to being around them.
I'm SPAYED, up-to-date on vaccinations and just $45 total to adopt.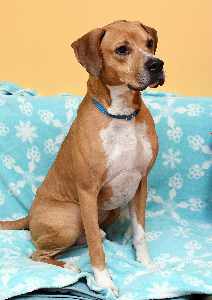 I'm "ITTY",
I'm an attentive, well-behaved boy. You can tell I had a home.
I don't understand why I was left behind when the family moved.
I walk nice on leash and will politely wait to be hooked up.
I probably know commands, but am currently too nervous to show them to you.
My brother, who has been adopted already, knows sit and give paw.
I don't like being left outside on my own. I'm good at escaping my yard and also will dig.
So, please do not leave me outside unattended and leash walk me a few times a day.
My prior owner says I'm good with kids.
I also keep my kennel very clean! So, I may be housebroken!
I'm a 4-year-old, Boxer mix who weighs 57 lbs.
I am up-to-date on my rabies vaccination, so my adoption fee is $30 plus the cost of my neuter.
~~~~~~~~~~~~~~~~~~~~~~~~~~~~~~~~~~~~~~~~~~~~~~~~~~~~~~~~~~~~~~~~~~
THANK YOU
TO EVERYONE THAT DONATED to the Shelter Angel Tree!!!
We are truly blesse
d to live in such a generous & carin
g co
mmunity.
~~~~~~~~~~~~~~~~~~~~~~~~~~~~~~~~~~~~~~~~~~~~~~~~~~~~~~~~~~~~~~~~~~
As of November 1, new pricing is in effect at the shelter.
Dogs and Cats are $30 plus prepayment of their spay/neuter and rabies vaccination.
Cats who are already spayed/neutered are $45 plus prepayment of their rabies vaccination if it is needed.
Dogs who are already spayed/neutered are $55 plus
prepayment of their rabies vaccination if it is needed.
The total cost of the spay/neuter and rabies vaccination varies depending on the veterinarian or clinic chosen.
~~~~~~~~~~~~~~~~~~~~~~~~~~~~~~~~~~~~~~~~~~~~~~~~~~~~~~~


Cats

and kittens

are $45 off their adoption and spay/neuter fees c

ourtesy of the shelter and the Jefferson County Humane Society. Cats who are already neutered or spayed are $45 and not part of the special.
~~~~~~~~~~~~~~~~~~~~~~~~~~~~~~~~~~~~~~~~~~~~~~~~~~~~~~~
The

shelter accepts both STEEL and ALUMINUM cans.

The

funds made with recycling go into our medical fund. Please rinse out

the

steel cans well (we don't want to encourage not-so-adoptable critters to hang out around

the

shelter) and place

the

m in a separate bag from

the

aluminum cans. Drop both types

of

cans (remember, in separate bags) in

the

large labeled bin that is on

the

east side

of

the

shelter - that's to your left when facing

the

shelter's front door.
The

shelter is part

of

the

Kroger rewards program. To participate, register your Kroger card at www.krogercommunityrewards.com and enter NPO number 63224.

Support

the

shelter every time you walk your dog through

the

Walk for a Dog cell phone

app available

at Google Play or

the

Apple App Store.

The

shelter is listed as

the

Madison-Jefferson Animal Shelter.