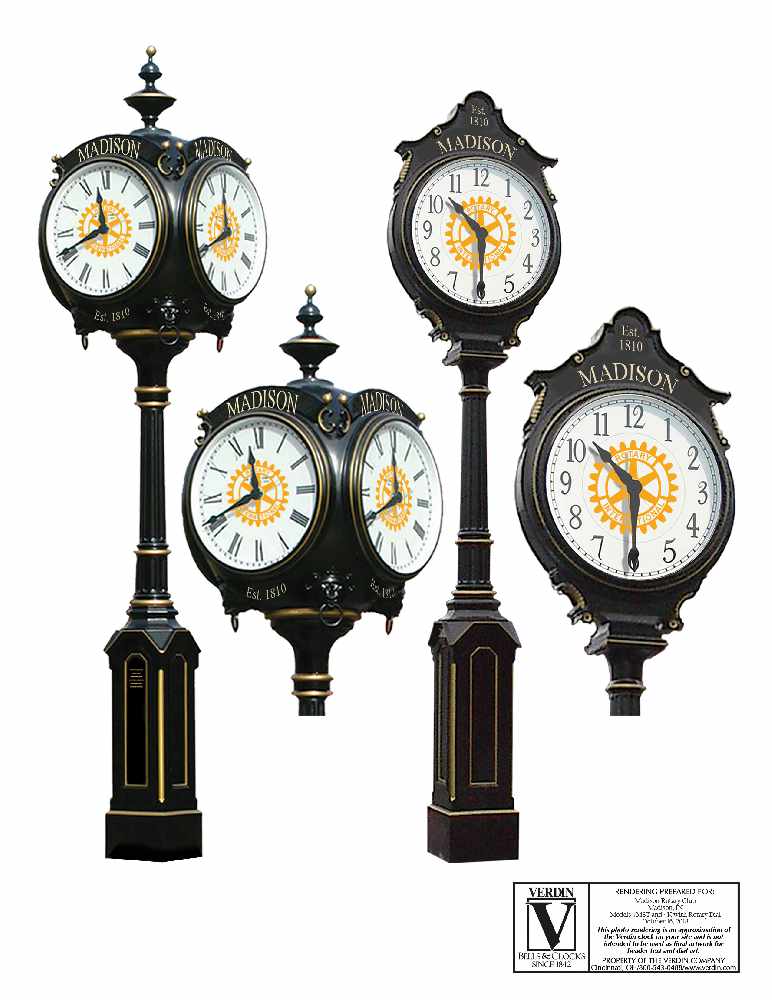 Gift is in recognition of 100th year of Club in Madison
The Madison Rotary Club is celebrating the 100th years of fellowship and service to the Madison community by donating a 4-faced post clock to the City of Madison that will be placed near Broadway and Main Streets in downtown Madison.
Matt Forrester, the Club's 100th President said, "The Madison Rotary Club has been giving and serving our community for 100 years, and we wanted to commemorate this occasion by presenting the community with a gift. It is only appropriate to mark this longevity with a large clock on Main Street."
The Madison Rotary Club makes a difference year round through community service projects, awarding thousands of dollars in scholarships to high school students, presenting each Kindergarten student in Jefferson County with an "I Like Me" book, and working to eliminate Polio worldwide. The Madison Rotary Club is the oldest service organization in Jefferson County, chartered May 1st, 1919 as the 467th club in the world. There are now more than 139,000 clubs worldwide.
"We are honored to be a small part of the legacy that so many Rotarians have shaped throughout 100 years in this community. We are excited to mark our first 100 years with this gift, as we look toward another 100 years of fellowship and service to Madison and Jefferson County," said Dave Dionne, the Celebration Chairman.
The custom clock will be made by the Verdin Company out of Cincinnati and will be installed in early spring. The Rotary Club will maintain it for the first few years, before entrusting maintenance to the City. The Rotary Club will formally celebrate 100 years in Madison during a dinner on Friday, May 3rd at Clifty Falls State Park Inn. All current and former Rotarians are invited and encouraged to come.