Went off a rural Jennings Co. road
Sunday, at approximately 1:30 pm, the Indiana State Police began investigating a single vehicle fatal crash in Jennings County, which claimed the life of a North Vernon, Indiana man.
The initial investigation by Trooper Jacob Tolle, Indiana State Police-Versailles Crash Reconstruction Team indicated that a white 2020 Kia Soul, being driven by Craig Coons, age 25, North Vernon, Indiana was traveling northbound on County Road 150 East near County Road 650 North in rural Jennings County. For an unknown reason, Coons vehicle left the east side of the roadway, struck a utility pole, and overturned, coming to rest in the roadway.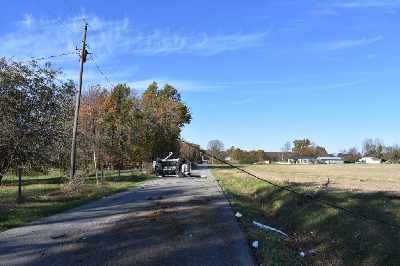 (Indiana State Police Photo)
Coons was ejected from the vehicle during the collision. He sustained fatal injuries in the crash. He was pronounced deceased at the scene by the Jennings County Coroner's Office.
Coons was not properly restrained in the vehicle when the crash occurred.
It is unknown if alcohol or drugs were involved in the crash. Toxicology results are pending at this time.
The investigation is ongoing.
Craig Coons' family has been notified.
The Indiana State Police was assisted by the Jennings County Sheriff's Office, Jennings County EMS, North Vernon Fire Department, Jennings County Coroner's Office, and Lucas Wrecker Service.