This will take place next week nightly Mon- Thurs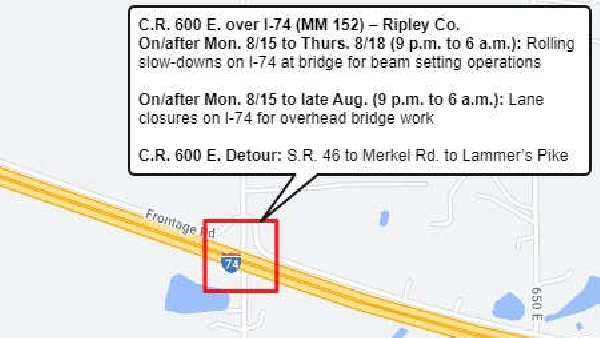 RIPLEY COUNTY, Ind.— Indiana Department of Transportation contractor Milestone Contractors LP plans to set beams next week at the C.R. 600 E. bridge over I-74 in Ripley County, as part of a superstructure replacement project that began last month.
Overnight rolling slow-downs are planned to begin at the bridge (near MM 152) on or after Monday, August 15. Slow-downs are scheduled between 9 p.m. and 6 a.m. each night through Thursday, August 18, weather permitting.
In addition, nightly lane closures are planned on I-74 starting Monday while overhead work is in progress. Lane closures will take place each night between 9 p.m. and 6 a.m. through late August.
County Road 600 E. is expected to reopen over I-74 in early October. Drivers may use the official detour, which follows S.R. 46, Merkel Road and Lammer's Pike.
This project is part of a $1.9 million contract awarded to Milestone last year. INDOT reminds drivers to slow down and use caution near workers and equipment in construction zones. All work is weather-dependent and schedules are subject to change.