Riding wrong way on highway
Yesterday, a deputy with the Scott County Sheriff's Office conducted a stop of a bicycle rider on State Road 3 in Lexington.
The stop was made because the bike rider was travelling in the roadway the wrong way on State Road #3.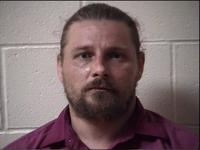 After speaking with the rider and conducting an investigation, Richard Freeman, 38, of Marysville, Indiana, was arrested for Possession of Methamphetamine.