A medical helicopter responded to a crash on U.S. 421 near Versailles Tuesday afternoon.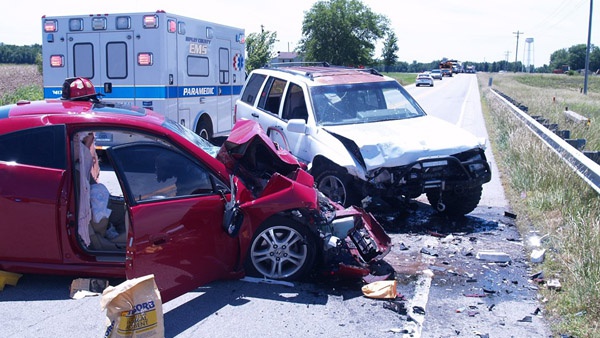 Photo by Versailles Fire Department.
(Versailles, Ind.) - A head-on collision on U.S. 421 just south of Versailles put two men in the hospital Tuesday, June 11.
The vehicles which collided just before 1:00 p.m. were driven by Leon Watters, of Muncie, and Brian Tucker, of Butlerville.
According to Ripley County Sheriff's Office Corporal Rob Bradley, "Tucker stated he was traveling north on U.S. 421. Tucker stated that Watters was traveling south on U.S. 421 and drove left-of-center. Tucker then drove left-of-center to avoid a collision when Watters corrected back right-of-center striking Tucker head-on."
Watters was unable to provide a statement to police at the scene. He was transported by Air Methods helicopter to University of Louisville Hospital. His current condition is not known.
Tucker was transported to the hospital by ambulance for apparent non-life threatening injuries.
That crash closed US. .421 for about 90 minutes Tuesday afternoon.
The sheriff's office was assisted at the scene by Versailles Fire Department, New Marion Fire Department, Ripley County EMS, Versailles Police Department, Mac's Auto Service, and Versailles Service Center.