Post season tournament results
IHSAA SOFTBALL SECTIONALS:
3A Sectional 29: Greensburg defeats Madison 7-3
2A Sectional 45: Switzerland Co. over South Ripley 10-0 in 5 innings. Lady Pacers take on Milan tonight at 7:30 following the Southwestern vs Austin game at 5:30
1A Sectional 62: Shawe never gave up in their game against Borden after falling behind 8-0 after the first. The Lady Toppers fought back out scoring the Lady Braves 24-8 over the next six innings including 14 runs in the bottom of the 6th for a 24-16 win. Shawe now advances to the semi-finals tonight against host Lanesville at 7pm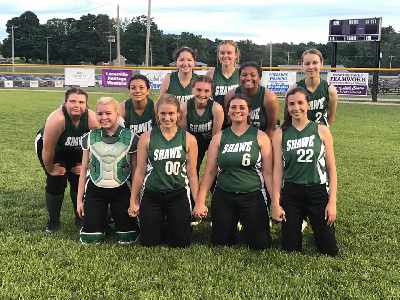 (Amy Huffner-McAllister Facebook photo)
KHSAA SOFTBALL DISTRICTS:
29th District: Oldham Co. over Trimble Co. 15-0
KHSAA BASEBALL DISTRICTS:
29th District: South Oldham Co. over Trimble Co. 10-0
31st District: Carroll Co. takes a walk-off win over Owen Co. 5-4 in 8 innings to advance to the District Championship game tonight at 5:30 at Owen Co. against Henry Co.
Panthers win in the 8th inning. Logan Rodgers drives in David Duncan. pic.twitter.com/ZeEsIYSlYg

— CCPantherBaseball (@CCPantherBaseb1) May 21, 2019
Southwestern baseball tie for first in the Ohio River Valley Conference with Milan and Rising Sun with a 10-2 record. This is the first conference championship in baseball for SW since 1999.
Southwestern has also won the ORVC Boys All-Sports Championship and the Overall All-Sports Championship once again this year.