High school and college round-up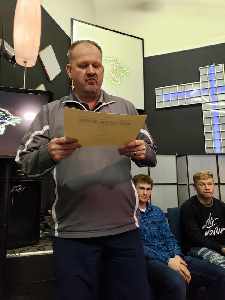 Carroll County boys basketball head coach Brian Crank Sr. has resigned after four seasons with the Panthers. Crank was 41-70 overall including 12-13 last season. He becomes the fourth boys basketball coach to resign or step down this year. Crank joins Sherron Wilkerson at Shawe, Mark McFarland at Madison and Ron Couch at Trimble Co.
HIGH SCHOOL BASEBALL:
Southwestern splits with Scottsburg falling in Game 1 5-3 and taking Game 2 5-3
HIGH SCHOOL SOFTBALL: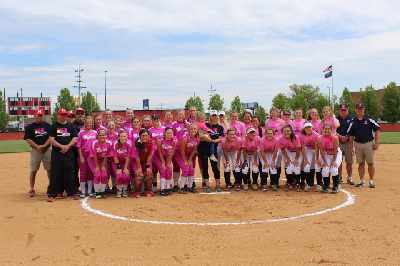 (Madison and Southwestern softball. Madison Lady Cubs Softball Facebook)
Madison defeats Southwestern in their annual Cancer Game 7-0. All 7 of the Lady Cubs runs come in the 3rd inning.
South Ripley defeats Oldenburg 6-0 in Game 1 and 12-5 in Game 2.
ALL "A" CLASSIC STATE SOFTBALL TOURNAMENT: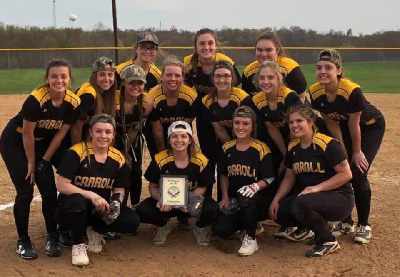 (Angie Mitchell Searcy Facebook photo of All "A" 8th Region Championship)
Carroll Co. defeats Brown 29-0, Raceland 5-4 in 8 innings and Middlesboro 8-3 to win Pool "A". Lady Panthers move now to the "Final 8" single elimination round Sunday and will take on the Pool "C" runner-up Nicholas Co. at 10am est
HIGH SCHOOL GIRLS TENNIS: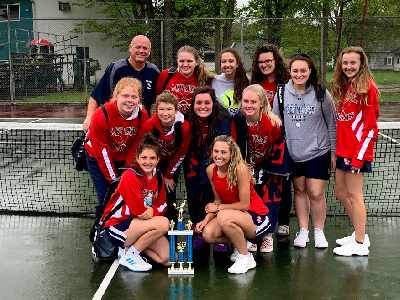 (Southwestern Girls Tennis Photo)
Southwestern wins the Southern Indiana Tennis Conference defeating Christian Academy in the first round 3-2 and was a set ahead in three matches vs Trinity Lutheran in the Championship match when the rain came. Shawe finished 0-2 with losses to Trinity Lutheran and Milan.
KHSAA BASS FISHING TOURNAMENT: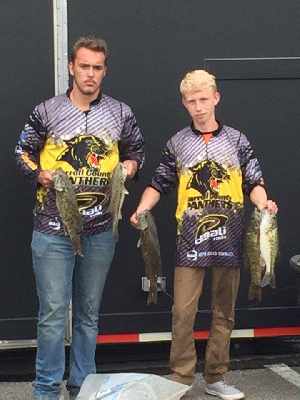 (Carroll Co. School District Facebook photo)
Carroll County's Wyatt Adair and Conner Hartman with a top thirty finish in the bass fishing regionals. This qualifies them for Bass Fishing State Tourney in May at Kentucky Lake. They had a five fish total of 11lbs 6oz.
HANOVER COLLEGE ATHLETICS:
(HCAC Photo)
Women's Track wins their 5th HCAC Championship and 2nd in the last three years
Men's Track places 2nd in the HCAC Championships
Men's Tennis over Manchester 9-0
Baseball defeats Defiance 3-2 in Game 1 falls in Game 2 5-4
Men's Lacrosse falls to Transylvania 13-11. Panthers will have the #2 seed in the Heartland Collegiate Lacrosse Conference tournament and will host to the 3rd seed Earlham on Wednesday at 4pm
Women's LaCrosse defeats Anderson 20-2. Panthers faces Earlham Wednesday in the opening round of HCLC Tournament.