Sectionals, College
IHSAA BOYS SOCCER SECTIONAL CHAMPIONSHIPS: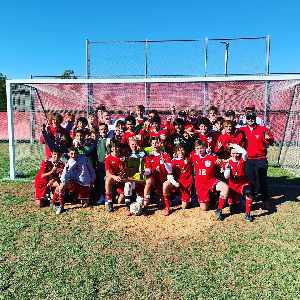 (Madison Cub Athletics Facebook photo)
Carson Denton, in the 91st minute (2nd OT) gives Madison the Madison Sectional Championship over Scottsburg 2-1. It is Madison's first boys sectional championship since 2010. Cubs will take on West Vigo in game one of the Heritage Hills Regional. Game two will place Washington against Evansville Memorial this coming Saturday.
Southwestern falls to host Jac-Cen-Del 5-0. Eagles take on North Posey in game two at the Providence Regional on Saturday.
IHSAA GIRLS SOCCER SECTIONAL CHAMPIONSHIP:
Oldenburg Academy wins their 3rd Sectional title in a row the their 4th in the last 5 as they defeat Switzerland Co. 3-0 in the Rising Sun Sectional.
IHSAA CROSS COUNTRY SECTIONAL:
Southwestern boys finished 3rd to advance as a team to the regional this coming Saturday at Brown County. Madison finished 7th overall.
Madison girls finished 4th to advance as a team to the regional also this coming Saturday at Brown County. Southwestern just missed as a team finishing 6th and Switzerland Co. 9th. Shawe's Calli Alderman finished 2nd overall and will advance to the regional as an individual.
Complete results of the Southwestern IHSAA Boys & Girls Sectional at Hanover College
HIGH SCHOOL VOLLEYBALL:
Switzerland Co. falls to New Washington 2-0 and Charlestown 2-0 and defeats Clarksville 3-1 at the New Washington Invitational
HANOVER COLLEGE ATHLETICS:
Football rolls over Defiance on the road 42-0. Second shutout in a row for the Panthers who have not let up a score no in 9 straight quarters and only one TD in the last 13 quarters.
Women's soccer defeats Earlham 1-0
Men's soccer over Earlham 2-0
Volleyball falls 3-0 to Hiram and 3-1 to Ohio Wesleyan
Women's swimming finished 2nd and the men 4th in the season opener at the Indiana DIII Swimming Invitational: Full results from the Indiana DIII Swimming Invitational