High school and college
Friday, November 15th:
HANOVER COLLEGE:
Women's basketball opened their season with a 61-53 victory over St. Mary's in the Hope College Tip-Off Classic. Pre-season All-American Alexis Nall led the Panthers with 21 points. Former Madison Lady Cub, Katie Hartman with 16 points and Former Switzerland Co. Lady Pacer Brooke Todd 5points. Hanover takes on host 6th ranked Hope College on Saturday at 3pm. Hanover women's basketball box score against St. Mary's
HIGH SCHOOL GIRLS BASKETBALL:
Madison picks up a 68 to 50 win over Switzerland County. Jade Nutley 19 points for the Lady Cubs and Aleiah Thomas 20 points for the Lady Pacers
Oldenburg Academy outscores Southwestern 15-7 in the 4th but it is the Lady Rebels holding on for a 39-37 win. Ellie Foley and Ashton Goode with 12 points each to lead Southwestern.
HIGH SCHOOL BOYS BASKETBALL:
Christian Academy of Madison beat Horizon Christian 56-44 and Calumet Christian 55-52 in Knightstown. Clay Carter and Luke Carter 15 each for CAM in game one, Luke Carter 22 and Trent Haggard 15 points in game two.
Saturday, November 16th:
HANOVER COLLEGE:
Men's and women's cross country at Great Lakes Regional in Grand Rapids, MI. Arig Tong finished 11th overall for Hanover in the women's race while to team finished 15th: NCAA DIII Great Lakes Cross Country Regional Women's Results. Hayden Veach was 79th for the men who finished 23rd overall: NCAA DIII Great Lakes Cross Country Regional Men's Results. Tong will advance to the NCAA DIII National Championship next Saturday at E. P. Tom Sawyer State Park in Louisville.
Men's soccer falls to Rochester in the NCAA DIII Men's Soccer Tournament First Round at Kenyon College 1-0.
Football defeats Franklin College in the regular season final 27-21 to hold on to the Victory Bell for a second year in a row. The HCAC champions finish the conference season at 7-0 first undefeated conference season since 2003. The Panthers advance to the NCAA DIII Tournament next Saturday for the second year in a row. Selections will be made on Sunday afternoon.
Side notes to the Hanover-Franklin game, Jr. RB Shawn Coane surpassed two season high team records. Coane became the leading scorer for a season with 126 points passing the 110 points by Tarrik Wilson in 1998. Rushing touchdowns with 19 passing the 17 touchdowns by Howard Treesh in 1948 . Coane also became the all-time career rusher with 3032 yards in three years passing the old record of 3,022 yards by Anthony Brantley from 1973-77. Shawn is also close on several other season and career records.
Several men's and women's school records fall in dual meet with Lindsey Wilsom.
Hanover College vs Lindsey Wilson Results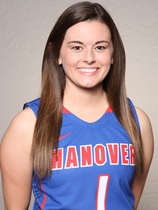 Women's basketball falls to #6 Hope College in the Hope Tip-Off Classic 80-30. Alexis Nall and Kristin Mills each with 8 points.
HIGH SCHOOL GIRLS BASKETBALL:
Southwestern takes down 1A #12 West Washington in overtime 49-46. Ellie Foley with 16, Ashton Goode with 12,
Switzerland Co. defeats Henryville 46-43. Aleiah Thomas had 11 points for the Lady Pacers collecting her 1000th point of her career.