Wrerstling, college signing, college basketball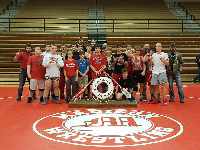 (Madison Wrestling Photo)
HIGH SCHOOL WRESTLING:
Madison 45 Southwestern 35. Madison retains the Battle for the Paddle Trophy.
(Brittan Mefford Photo)
COLLEGE SIGNING:
Southwestern basketball and golf stand out, Hunter Mefford, will be signing to play golf at Purdue University Fort Wayne tomorrow evening in the Southwestern Library at 5.
(Hanover College Photo)
While Hanover College is still celebrating their NCAA Football Playoff appearance this Saturday, the Hanover College men's basketball team opens their season tonight as the Panthers host Spalding at the Collier Arena at 7.