Carroll Co. takes All "A" 8th region softball crown
HIGH SCHOOL SOFTBALL: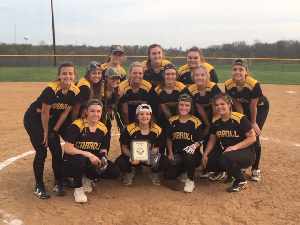 Carroll Co. claimed the All "A" 8th Region title with a 12-6 win over Williamstown. Lady Panthers now advance to Pool Play in the All "A" Finals and will open against the 7th region champion on April 27th 9am in Owensboro. Carroll Co. will also take on the 1st region winner at 12:30 and 13th region winner at 4pm.
Trimble Co. fell to Simon Kenton 10-9
HIGH SCHOOL BASEBALL:
Henryville defeats Southwestern 6-2
HIGH SCHOOL GIRLS TENNIS:
Shawe falls to Lawrenceburg 4-1. Phoebe Grote had the Lady Toppers win at #2 singles.
Trimble Co. over Carroll Co. 4-1
Greensburg defeats Madison 5-0
HIGH SCHOOL TRACK:
Southwestern hosted a 4-team meet with the boys team taking first while the Switzerland Co. girls won their event. Rebels won 11 of 15 events to gather 90 points. Jac-Cen-Del was second (59), Trinity Lutheran third (41) and Switzerland Co. fourth (36). Lady Pacers won the meet inching out Jac-Cen-Del 68-67.5. Southwestern was third (59) and Trinity Lutheran fourth (32.5)