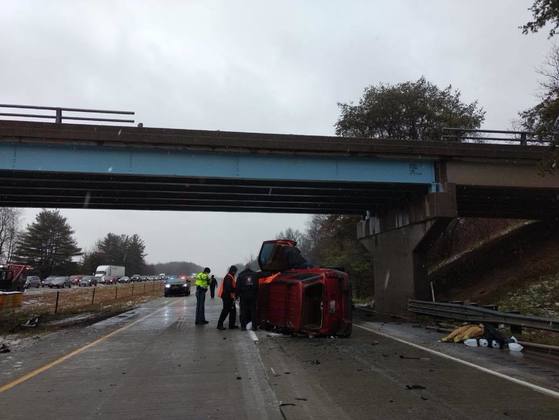 Slick conditions on Saturday
Crothersville-Saturday, shortly after noon, the Indiana State Police responded to reports of a collision in which a vehicle fell off an overpass onto I-65 near the 37.5 mile marker in Jackson County.
The initial investigation by Sgt. Brian Wilson indicated that a red 2002 Chevrolet Trailblazer, driven by Richard T. Coulter, age 37, Austin, Indiana was traveling westbound on County Road 600 South on an overpass over I-65. Coulter lost control of the vehicle on the ice covered overpass. Coulter's vehicle broke through a metal guardrail on the south side of the road and fell into the northbound lanes of I-65. Coulter's vehicle struck a red 2014 Toyota SUV, driven by Charles G. Jahnke, age 56, Green Bay, Wisconsin that was traveling northbound on I-65.
Coulter's vehicle came to rest on its driver's side in the middle of the northbound lanes of I-65. Jahnke's vehicle came to rest on the shoulder of I-65.
Coulter was trapped inside the vehicle and had to be extricated by the Vernon Township Fire Department. He was transported to an Indianapolis area hospital with critical injuries. Jahnke was not injured in the crash.
The roadway surface condition, which was icy at the time, is believed to be a factor in the crash. The crash remains under investigation.
Alcohol and drugs are not believed to be factors in the crash.
The northbound lanes of I-65 were shut down for nearly two hours for crash investigation and cleanup. The Indiana Department of Transportation also had a bridge inspector come to the scene to inspect the overpass before the roadway was opened.