If you or someone you know is facing a mental health crisis, call 988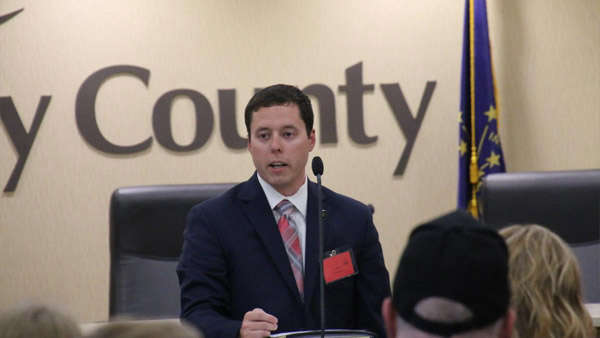 Did you know that about 1,000 Hoosiers lose their life to suicide each year? It's also our state's second leading cause of death for those ages 10 to 34, according to the Centers for Disease Control and Prevention. As September marks National Suicide Prevention Month, it's an important time to learn more about this prevalent mental health issue and the help available to Hoosiers in crisis. Together, we can help save lives by spreading awareness and sharing resources.
The 988 Suicide and Crisis Lifeline is an easy-to-remember number that's available to call or text 24/7. It offers a direct connection to compassionate, accessible care and support for anyone experiencing mental health-related distress, including thoughts of suicide, mental health crisis and substance use crisis. You can also dial 988 if you're worried about a loved one who may need support.
For National Suicide Prevention Month and beyond, 988 launched #BeThe1To awareness campaign to spread the word about actions we can all take to prevent suicide. Check out BeThe1To.com to learn more about the five action steps to help someone in crisis. You can also learn more about Indiana's 988 by visiting 988Indiana.org.
This year, the Indiana General Assembly expanded its suicide prevention efforts by expanding its 988 program, which has one of the highest response rates in the nation. In the coming years, 988 will be able to provide onsite, community-based interventions, including de-escalation, stabilization and treatment. They'll be able to deploy mobile crisis teams who are trained to provide specialized crisis care. If you work for a care provider in our area and would like to learn more about being part of a 988 mobile crisis unit, visit in.gov/issp and click on "988 Suicide & Crisis Lifeline."
Additionally, Hoosiers can call 211 and connect with Indiana's Be Well Crisis Helpline, a free and confidential resource that connects those facing a crisis with trained counselors. Their website, bewellindiana.com, also offers help with financial assistance, substance use disorder and other useful support materials.
If you or someone you know is facing a mental health crisis, call 988 to connect with the suicide and crisis line, or 211 to reach the Indiana's Be Well Crisis Helpline. Help is out there, and these are great tools that could help save lives.