This is the second time in 18 months that Indiana State Police ACP squad has arrested Baxter on drug-related charges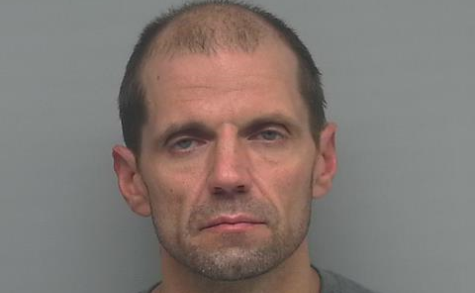 Photo Courtesy of Floyd County Jail
(New Albany, Ind.) - The Indiana State Police All Crimes Policing squad arrested a New Albany man on Feb 12 along with the help of Floyd County Sheriff's Department.
Michael Wayne Baxter, 44, of Roseview Terrace, in New Albany, was arrested around 8:25 a.m. when Indiana State Police, the New Albany Police Department, and the Floyd County Sheriff's Department arrived with a search warrant.
An investigation began in early February when Trooper Andrew Taylor of the ACP squad learned of possible drug activity at Baxter's residence.
After the investigation and subsequent search warrant, multiple drug types were discovered, including LSD, Marijuana, suspected Methamphetamine, and controlled prescription drugs.
Also found on the property was a stolen motorcycle out of Louisville, Kentucky.
Baxter was arrested and transported to the Floyd County jail on the charges of Dealing in Methamphetamine (Level 2 Felony), Possession of Methamphetamine (Level 3 Felony), Auto Theft (Level 6 Felony), Possession of a Legend Drug (Level 6 Felony), Possession of Controlled Substance (A Misdemeanor), Possession of Paraphernalia ( B Misdemeanor), and Possession of Marijuana (B Misdemeanor).
This is the second time in 18 months that Indiana State Police ACP squad has arrested Baxter on drug-related charges the first was in August of 2018.
"All subjects are presumed innocent until and unless proven guilty in a court of law," Sgt. Carey Huls, Indiana State Police Sellersburg.
Photo Courtesy of Carey Huls- Indiana State Police Sellersburg