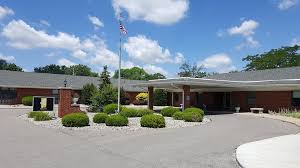 Hanover Nursing Center
On Saturday, December 1, 2018, at approximately 11:00 p.m., the Hanover Police Department responded to a report of a sex crime that occurred at the Hanover Nursing Center. The report indicated that a resident of the facility with dementia had been raped by an employee. Hanover Police Officer Christopher Trapp led the investigation with the assistance of the Jefferson County Prosecutor's Office Department.
Hanover Nursing Center employee, David Garcia, age 35, of Madison, Indiana was identified as a person of interest in this case. After further investigation, including multiple interviews, a warrant was issued for the arrest of David Garcia for Rape, a level 3 Felony.
On Wednesday, December 5, 2018, at approximately 3:00 p.m. Hanover Police Chief Joshua R. Taylor and Gary Macdonald, Investigator for the Jefferson County Prosecutor's Office, located and arrested David Garcia. David Garcia was transported to the Jefferson County Jail without incident and is currently being held there on a $50,000 cash bond.
The Hanover Nursing Center was fully cooperative and transparent throughout the investigation.
A criminal charge is merely an accusation. Every Defendant is presumed innocent until and unless proven guilty.